fairandfunky School Workshops
fairandfunky CIC, based in Yorkshire, delivers a unique range of interactive and creative workshops for schools on key global themes: Fairtrade, recycling and the environment. fairandfunky workshops focus on Citizenship and can be adapted to offer a bespoke session for schools.
Take a look at the fairandfunky School Workshops flyer here. To order copies for your school please get in touch.
fairandfunky workshops teach knowledge and understanding within social, moral, spiritual and cultural frameworks, empowering students to take their own little steps to change the world. The school workshops add value to enhance curriculum subjects, or within enrichment during a specialised week. For example: Waste Awareness Week, Fairtrade Fortnight, World Environment Day and Arts Week. fairandfunky school workshops are differentiated to suit KS1, KS2 or KS3.
"fairandfunky workshops are heaps of well organised, well resourced fun. They provide practical, hands-on activities. They offer a clear message of sustainability and Fairtrade." Headteacher at Holme Junior and Infant School.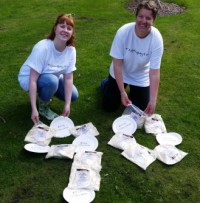 All fairandfunky workshops are delivered by two members of staff.
Helen Robinson is an experienced Primary teacher, having worked across Kirklees and teaching with VSO in Kenya. Sophie Bebb is a qualified artist with experience in leading community workshops, as well as working with the Oxfam Youth Board.
fairandfunky school workshops currently include:
– Chocolate and Fairtrade – Go Bananas! – Change the World with an Eggbox – – Street Paper – Recycling Workshops – Challenge fairandfunky! –
Each 90 minute workshop costs £150 (plus reasonable travel expenses) and assumes a class size of 30 children. This includes two members of staff and all material costs.
All fairandfunky workshops can be adapted to meet specific needs of your individual school or class. Get in touch to discuss your requirements and receive a tailored quote.
Our latest tweets

Tweets by @fair_funky
Sign up to our email newsletter to keep up to date with new products and our news!