fairandfunky Events in Yorkshire
Meet the Rice Farmers! Monday 17th September from 10am at Honley High School.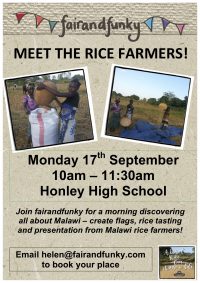 We are delighted to announce that
rice farmers from Malawi are coming to visit and we'd like to invite you to join us at Honley High School for a Malawi Morning!
Schools, community groups, individuals, churches…..YOU….are invited to Honley High School on Monday 17th September to…..
* Meet the farmers
* Enjoy rice tasting sessions on arrival – thanks to The Black Cat Bistro
* Take part in a mini SCRAPtastic 'make a Malawi flag' workshops
* Enjoy Fairtrade refreshments
and listen to a presentation from the rice farmers and be inspired to take part in a 90kg rice challenge! Rice will be available to buy at the event – will we be able to complete a 90kg challenge in one morning?! (£3.20 for 1kg bag)
Please email helen@fairandfunky.com to register your FREE place at this exciting event.
Swap Shop Sew – Sunday 21st October – 2pm till 4pm – Holmfirth Civic Hall.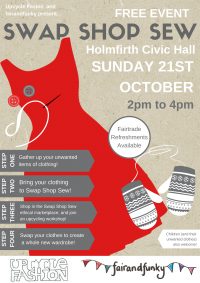 Swap Shop Sew is BACK!
Put the date in your diary and start putting your swap collection together. An afternoon of upcycling workshops, shopping in the ethical and handmade marketplace, Fairtrade refreshments and swapping your wardrobe!
We're delighted to be welcoming a range of local and ethical stalls to the Swap Shop Sew Ethical Marketplace if you are interested in having a stall please email sophie@fairandfunky.com for an application form.
More details about the event will follow.
Our latest tweets

Tweets by @fair_funky
Sign up to our email newsletter to keep up to date with new products and our news!