fairandfunky Events in Yorkshire
Join us to celebrate 5 years of fairandfunky!
Please support our crowdfunding campaign to raise £3000 to design, create and publish a #SCRAPtastic book to change the world!
fairandfunky Football Funday – Thursday 6th July, 1pm to 3pm – Honley High School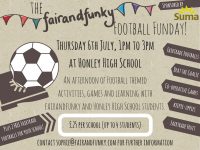 The fairandfunky Football Funday welcomes students from across Yorkshire to an afternoon of football and Fairtrade focussed games, activities and co-operative learning. Each student will take part in 6 fun workshops throughout the afternoon, and each school will receive TWO FREE FAIRTRADE FOOTBALLS!
The cost for the afternoon is just £25 – each school is invited to bring 4 students. BOOKING IS ESSENTIAL, please contact sophie@fairandfunky.com for your booking form.
fairandfunky Sustainable Schools Conference for Primary Schools – Friday 6th October 2017 – Al-Hikmah Centre (IMWS), Batley.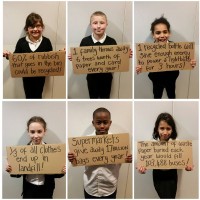 The fairandfunky Sustainable Schools Conference brings together Primary Schools to celebrate World Environment Day. The conference will ignite enthusiasm and interest in both pupils and teachers for local and global sustainability.
The conference will link themes of citizenship, food, biodiversity and waste from the Eco-Schools programme, Food For Life and Fairtrade Schools Award, providing evidence for each of these award schemes.
All students will create individual recycled artworks to take home, along with a pack of wildflower seeds and other eco-goodies. The event will close with a Q&A and certificate presentations from Tracy Brabin MP.
Leading workshop providers – fairandfunky, Grow To School, Pockets Theatre and LoveBread – will facilitate interactive sessions involving drama, recycling, local food and muddy fingers – providing plenty of food for thought!
During lunch delegates will be able to take part in a variety of Fairtrade activities, enjoy networking opportunities with workshop providers and Eco-Schools staff, and shop in the ethical marketplace.
The conference costs £120 for each school to bring 8 students and 2 teacher delegates. Please email helen@fairandfunky.com for a booking form and to reserve your school a place.
Our latest tweets

Tweets by @fair_funky
Sign up to our email newsletter to keep up to date with new products and our news!