Time for a Fairtrade break? Time for CAKE!
As members of Holme Valley Fairtrade and Kirklees Fairtrade it's been Fairtrade AGM time for fairandfunky this week!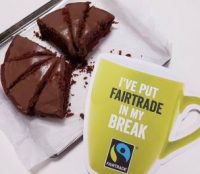 Every AGM should be accompanied by cake…..especially Fairtrade Cake, and when this photo was shared on social media BAFTS asked for a recipe……..
HUGE thank you to Kirklees Catering for the original recipe, it's actually Munch's Beetroot Cake!
Ingredients: Margarine 125gm, Chocolate 100gm, Sliced fresh beetroot 250gm, eggs x3, Drinking Chocolate 100gm, Self Raising Flour 225gm, Sugar 200g
1. Melt the chocolate (we used Chocolate and Ginger Divine Chocolate!) and margarine in a bowl over a pan of boiling water.
2. Puree beetroot
3. Beat eggs and mix in with the beetroot puree
4. Mix drinking chocolate, flour and sugar in a mixing bowl
5. Add the melted chocolate and the beetroot into the dry ingredients and mix well
6. Pour into an 8inch cake tin and spread evenly
7. Bake at 180C for 1 hour, leave to cool.
8. You can top your cake with buttercream (40gm margarine mixed with 60gm icing sugar) or melted chocolate!
9. EAT, SHARE, and ENJOY!
And don't forget to share your Fairtrade Cake with fairandfunky on twitter, facebook and Instagram!
Sign up to our email newsletter to keep up to date with new products and our news!