The Rice Challenge is Back!
Each year fairandfunky take on the 90kg rice challenge from our partners Just Trading Scotland. The challenge is to sell 90kg of rice – because when a farmer sells 90kg of rice they can afford to send their children to school for a year.
Working with schools, churches, youth clubs and individuals the rice challenge has been a roaring success. In 2014 we sold 270kg of rice; in 2015 we sold 360kg! This year we'd like to sell 450kg of rice and complete the challenge FIVE times over.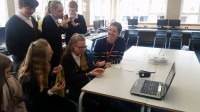 Earlier this year we were able to speak to rice farmers via skype and discover first-hand the difference the 90kg rice challenge makes to the farming community in Malawi. We arranged a meeting between Kenneth and Howard (who were touring Scotland) and Honley High School Fairtrade Forum students…….
"What's it like to live in Malawi?"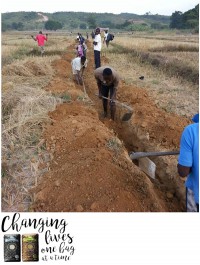 "VERY hot! And very hard work on the farms. We have to make ridges on the land to control water and we do this by hand unless we can afford oxen. The oxen make it so much easier!"
"Our children get up very early to walk to school – there can be almost 100 children in one primary school class, but only a few in secondary. Secondary Education is very expensive."
"How do you grow rice?"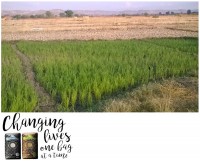 "It takes 5 months to grow rice. And it needs a lot of water to grow. We work barefooted, checking our land and at harvest we separate the stalks from the grains before carrying in 50kg bags to the store. We start work at 3am – it's much cooler then! And eat at lunch."
"How has Fairtrade changed your life?"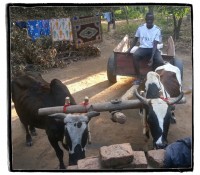 "So much. So so much. We can pay for school fees to send children to secondary school and our co-operative supports orphans too. We now have 3 children University and 2 at colleges."
"We have bought oxen and ox carts which have changed our lives! It makes everything so much easier and we can use the carts for other things too – transporting people to hospital, and as burial carts."
"Managed to make improvements on our homes too – I'm very proud of my house. It now has iron sheets!"
"Why is JTS rice better?"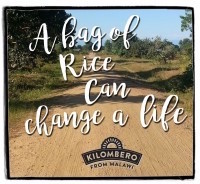 "It's delicious of course! Grown in the warm heart of Africa."
"And of course the partnerships we make with JTS encourage us to keep going – we're supporting 20 children through school at the moment."
"We cannot thank you enough for buying our rice."
We found our conversations really humbling. That the things that have changed their lives we take for granted – a roof on their houses, better transport, school for their children. It inspired us all to keep going with the rice challenge and continue to change the world for farmers and their communities. We hope you will be able to join us!
You can get involved in a number of ways: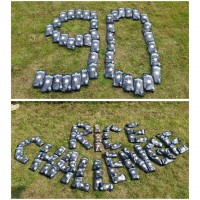 In Your School: Either book a rice challenge workshop and we'll deliver a FREE whole school assembly to kickstart your challenge or get in touch with us to run with the challenge independently.
In Your Workplace: Working with fairandfunky you can run the rice challenge where you work. And as in previous years you can choose to donate rice to The Welcome Centre in Huddersfield – two good deeds in one go! Email helen@fairandfunky.com for information.
In Your Home: Simply buy rice by clicking here! And be part of the challenge – each bag of rice makes a difference. It is together that we will change the world!
Sign up to our email newsletter to keep up to date with new products and our news!