Story Sofas Shopping List!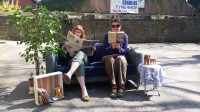 Next month we launch our 'Story Sofas' project with Holmfirth Arts Festival – putting sofas in the streets of Holmfirth; inviting people to stop, look, and listen to the world around them; and to let Holmfirth tell you a story!
As with all fairandfunky projects 'Story Sofas' involves a lot of recycling, up-cycling and reusing. Already the people of twitter have come forward with bookshelves, rugs, standard lamps and dressing up clothes. We have a bookcase donated from St. Thomas' School in Huddersfield, which will be filled with books from Oxfam Holmfirth. And of course the wonders of Freegle, Holmfirth For Sale or Swap and the fabulous Matts Moovers have gifted us with the sofas themselves!
But the 'Story Sofas' shopping list is yet complete. Can you help with any of the following?
Heart shaped photograph frames
Adventure story books for children
Pirate flags
Bunting
Paint – half filled tins will be fine!
Dressing up clothes on a fairytale theme (adults and/or children!)
Storage Box
A large rug
Set of step ladders (a small set!)
If you would like fairandfunky to recycle your unwanted bits and pieces for the 'Story Sofas' project then please click here to contact us! Remember: One persons rubbish is someone else's treasure!
And don't forget to head to Holmfirth from June 11th – June 21st to join in Holmfirth Arts Festival and take time to sit down on a sofa and let Holmfirth tell you a story. When you do, please tweet your photo using #StorySofas to @HolmfirthARTS and @fair_funky.
Sign up to our email newsletter to keep up to date with new products and our news!