Secondary Schools Change The World with Fairtrade!
As World Fair Trade Day approaches we look back to Fairtrade Fortnight 2018 when Honley High School once more opened its doors to Secondary Schools from across Yorkshire at the second fairandfunky Fairtrade Conference for Secondary Schools! The Conference brought schools together to inspire students and teachers to get involved with Fairtrade back at their individual schools. Interactive workshops from fairandfunky, Pockets Theatre, Trading Visions and Suma Wholefoods engaged students through drama, creative arts, and debate; enabling students to collaborate on shared values and discover more about the impact of Fairtrade on local and global communities.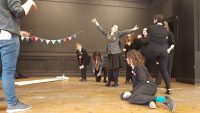 Honley High School is working to be a Fair Achiever Fairtrade School, and we were delighted to be welcomed by Liz Tandy and the school Fairtrade Forum; before breaking out into our workshop groups. Taking to the stage was Pockets Theatre, developing an emotional response to Fairtrade through drama. Students took on roles within the supply chain of bananas and worked together to create 'Fair' and 'Unfair' freeze frames, considering how producers feel when empowered with Fairtrade.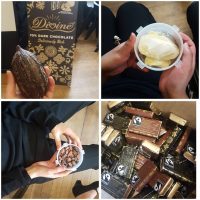 With Trading Visions the focus was on the supply chain of chocolate from bean to bar. Students got to taste a variety of delicious Divine Chocolate and study the various processes of the cocoa bean, before hearing empowering stories from Fairtrade cocoa farmers in a fascinating presentation.
Students discovered there was more to Fairtrade than chocolate and bananas in an informative session with fairandfunky, who were sharing the Koolskools story of Fairtrade cotton and sustainable fashion. The workshop shared the experiences of Koolskools working with cotton producers in India, and manufacturers in Mauritius, with thought provoking video.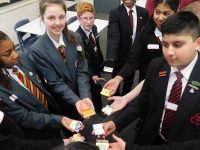 Students took time to look at their clothing labels and ask questions about where they were made and by whom. Through group discussion students considered the effect of Fairtrade on producers and how, as consumers, we have power to make a difference. All students made a wallet (recycled from a juice carton!) to focus their thinking when shopping. "Can I buy Fairtrade?"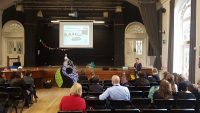 During the Suma Wholefoods workshop students discovered how to work together as a team and how the co-operative model of business works. With a series of role play activities students immersed themselves into the different roles within a company and learnt the differences of working as part of a co-operative. As Conference Champions Suma Wholefoods also delivered a fascinating presentation about their business – from sourcing and delivering products, to being a workers co-operative.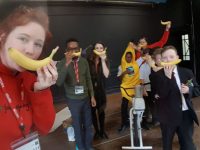 Over lunch conference delegates enjoyed creating their own Fairtrade banana smoothies with the help of the team from Stafflex on the brand new fairandfunky smoothie bike! Thank you to Holmfirth Co-op for supplying the delicious ingredients.
The final call to action was for each school to write their own Fairtrade Pledge to take learning from the day back to their respective schools. The Conference closed with certificate presentations by Nigel from Suma Wholefoods, and all participants left with a Fairtrade goody bag thanks to Tropical Wholefoods, Divine Chocolate and Natural Beverages; inspired to take their own little steps to change the world.
Thank you to all the schools who took part – we look forward to welcoming you to a Fairtrade Conference in 2019!! And a HUGE thank you to our Conference Partners Social Progress and Allegro Optical – two brilliant businesses that act local, think global.
Sign up to our email newsletter to keep up to date with new products and our news!