Schools out for Summer!
Schools out for Summer!  Wondering what to do? Join us at one of our fairandfunky SCRAPtastic workshops for creative fun using recycled materials.
Each and every fairandfunky workshop creates wonderful creations from junk to get children thinking about the world around them and teach them how to take their little steps to change the world. Whether those steps be simple recycling and upcycling, or planting bee friendly seeds; little steps change the world.
But don't just take our word for it. This is what 8 year old Ciara has to say: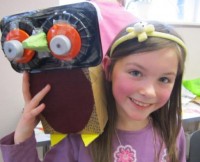 'fairandfunky is really different to other art clubs because we get to use recycled things. I loved making the scrap bugs with old materials from clothes, I called mine 'scraps'. We also made masks made from cardboard which looked like the ones you wear to a masquerade ball. Helen and Sophie are really kind and if you did something wrong, they would help you sort it out. It is brilliant. I wonder how they get all of the ideas from?'
Ciara has joined us at fairandfunky afterschool clubs as well as holiday SCRAPtastic workshops. So she has a lot of fairandfunky firsthand experience; as does her Mum, Julie.
'My daughters, 8 and 4, love the SCRAPtastic workshops because they have the freedom to be creative and get messy. I enjoy taking them as it is relaxed and there are no rules. Children can go at their own pace and at their own level – I've seen toddlers working on the same table as my 8 year-old and each has had a brilliant time. Helen and Sophie offer support, encouragement and guidance to those who need it and my daughters love showing them their creations. Scraptastic workshops are great value for money, creative, inspiring and I don't have to clean up at the end.'
Come along to one of our workshops to find out for yourself!
Rochdale Pioneers Museum – 24th July and 7th August – 12noon till 3pm – fairandfunky workshops on a co-operative theme! Create a picture box inspired by the co-operatives past, or plant a seed for the future.
Huddersfield Food and Drink Festival – 8th and 9th August – Join us in the Kids Zone for mask making at 10am, butterfly and bee buzzing at 12noon and mice mayhem at 2pm. There is LOTS happening, not just us, so do go and explore.
Make it and Take It at Queensgate Market – 3rd August – Find us in the demo zone for our usual SCRAPtastic workshop. This month come along and make a recycled scrap book for your holiday memorabilia.
PIRATE workshops (yes, pirates) with Kirklees Markets – Ahoy, me hearties! We be saving seas across Kirklees. All you swash buckling, land lubbers come and join the fairandfunky crew on the good ship Recycle! Shiver me timbers!
Holmfirth Market – 1st August
Queensgate Market – 6th August
Heckmondwike Market – 10th August
And not forgetting the fairandfunky family fun day! – 4th August – celebrate Yorkshire Day in Holmfirth Market with FREE workshops, stalls, live music and a mini pop-up tea parlour from Emma's Tea Parlour.
Sign up to our email newsletter to keep up to date with new products and our news!