Rice Challenge
fairandfunky invites you to join the "Harvest 90kg Rice Challenge"
Did you know that a rice farmer from Malawi needs to sell 90kg of rice to be able to afford to send their child to school for a year? We aim to sell 90kg of rice three times over to change the world for farmers and their families.
The fairandfunky rice challenge is a great opportunity to encourage enterprise and share learning within The Food For Life Partnership. Schools can access the challenge through a workshop, an assembly and by buying 1 bag of rice or 100 bags! Joining the fairandfunky rice challenge enables your school to meet the following Silver Award requiremenrs: source ethical food (S8i); as well as complementing and adding value to community food events (S15).
Rice step 1 – "From Farm to Fork" Workshop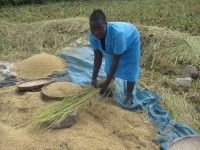 Book a NEW fairandfunky workshop for your school. Our new "Farm to Fork Workshop" focuses on Malawi, the farmers, the culture, and the journey of rice from the farms to our forks in the UK. Lasting 90 minutes students will be engaged through interactive workshops, role-play, activities, video presentations and a quiz. The workshop costs £150. Each school will receive a fairandfunky certificate, and a "Farm to Fork" resource pack to enhance further learning.
The workshop will develop knowledge and understanding on life in Malawi and quantify the benefits of Fairtrade for students. The workshop will be adapted to suit either KS1 or KS2.
Rice Step 2 – "From Farm to Fork" Assembly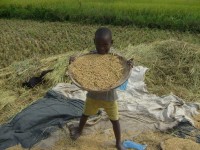 Book a fairandfunky assembly for your school – through an interactive 15 minutes assembly we will ignite interest and enthusiasm with the students about "Where does rice come from?" and how, we, as individuals can use our buying power to change the world! Ideally, we would like every school who books an assembly to buy a bag of rice.
The assembly will empower each student to think about the steps they can take to change the world.
Rice Step 3 – Buy the rice!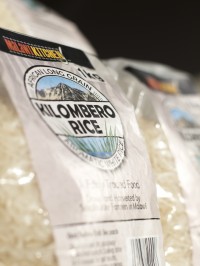 YOU are invited to join us in the challenge and buy rice! We welcome the opportunity to have a fairandfunky pop-up shop at your community food event. Please get in touch to arrange a pop-up shop at your school or community event. You can also buy your own bag of fairly traded rice HERE.
Selling 90kg of rice creates a link between the pupils and the farmers in Malawi.
Kilombero Rice is East Africa's favourite top quality rice: Price per 1kg: £3.20
Contact fairandfunky to join the challenge!
fairandfunky deliver a range of workshops in schools and with community groups on recycling, Fairtrade and the environment. Please contact us to find out more, to discuss bespoke workshops and book us for your festival, event or market!
Our latest tweets

Tweets by @fair_funky
Sign up to our email newsletter to keep up to date with new products and our news!