Product of the Week: The fairandfunky Fairtrade Bag is Changing the World!
At fairandfunky we are starting a new feature on our blog, which will appear each week, consisting of insight, detail and stories surrounding our latest "Product of the Week". To kick us off, we have a very exciting product we're sure you will all be after…
fairandfunky are excited to announce that we now have our very own limited edition fairandfunky Fairtrade cotton bag, available to buy here at fairandfunky.com!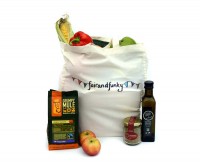 Made in India using 100% Fairtrade cotton, this limited edition bag shows our own fairandfunky logo, which is printed locally, encompassing all that fairandfunky stands for – Thinking globally and acting locally, to consider global communities by taking action in your own area.
The Fairtrade bag is woven and stitched by producers in K.V.Kuppam, India, in partnership with Bishopston Trading Company, which was set up in 1985, with the sole aim to trade fairly with producers in South India.
The weaver's making the bag worked at home, weaving in the traditional way and on looms passed down through generations of their families. As well as this, many of the cutters, tailors, hand-finishers, and embroiderers that worked with Bishopston Trading Company were women. Their earnings, equal to the men,  allowed them to support their families.
Shown on our Fairtrade bag, the fairandfunky logo is printed locally to us at a business in central Holmfirth, West Yorkshire. This way you can show that you are changing the world with fairandfunky and our Fairtrade cotton bag, when you think global and shop local.
Sign up to our email newsletter to keep up to date with new products and our news!