Make Your Mark – Cotton On to Fairtrade Uniform
As Fairtrade Fortnight approaches (29th February – 13th March 2016) schools, churches, businesses and towns, are busy thinking what their next step for Fairtrade might be and how to 'Sit down for Breakfast, Stand up for Farmers!'
What about making a real statement with your next step and investing in Fairtrade uniform or a Fairtrade apron for your school, or church, or business? To make your mark, show off your label and change the world!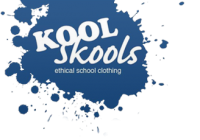 Thanks to an exciting new partnership with Koolskools, fairandfunky can now help you make the step to Fairtrade uniform! We're delighted to have entered into a new business co-operation relationship with Koolskools – the UK's leading supplier of ethically manufactured school uniform made exclusively with Fairtrade cotton.
"We have had the pleasure of seeing fairandfunky in action, and are very impressed with their innovative, ground-breaking way of teaching Fairtrade. We have total confidence in fairandfunky's interactive, creative work shops, and their ability to put across exactly the right messages on Fairtrade cotton and ethical manufacturing to UK school children." Andy, Koolskools
Fairtrade provides a lifeline to farmers ensuring that they are paid a guaranteed minimum price for their cotton crop which has been calculated to cover the sustainable costs of production. Farmers also receive additional money, the Fairtrade premium, to invest in community projects.
Fairtrade is an effective development tool giving small-scale farmers access to global markets as well as helping them to work their way out of poverty. Buying or producing a product made from Fairtrade certified cotton contributes to fighting poverty and to sustainable development for some of the world's most marginalised cotton farmers.*
"There's no difference in quality between Fairtrade cotton and normal cotton. The real difference is that the person at the very bottom of the textile supply chain who has grown the cotton has been paid a fair price for his crop. It is not the finished fabric or item of clothing but cotton itself which is Fairtrade certified." Taken from www.KoolSkools.co.uk
We're immensely proud to have been appointed official Koolskools agents. Alongside the introduction of Fairtrade cotton school uniform, we can support your Fairtrade journey with resources, assemblies and workshops. Please liaise directly with us at fairandfunky in the first instance (quoting Code Number 280561), and we will put you in direct touch with Koolskools to discuss the detail of your Fairtrade cotton uniform requirements.
So this Fairtrade Fortnight (and beyond) why don't you join fairandfunky and Koolskools to make Fairtrade uniform your next step for Fairtrade!
*"The price of cotton has slumped in the last 30 years, even though the cost of producing it has risen and that means farmers in places like India, Kyrgyzstan and West Africa are struggling to survive. As many as 100 million households are directly engaged in cotton production and an estimated 300 million people work in the cotton sector when family labour, farm labour and workers in ancillary services such as transportation, ginning, baling and storage are taken into account. For farmers, the challenges range from the impact of climate change, poor prices for seed cotton, through to competition from highly subsidised producers in rich countries and poor terms of trade. In particular, government subsidies for cotton farmers in rich countries, particularly the US, create a market with artificially low prices that small-scale farmers are unable to compete in." The Fairtrade Foundation (see full article: http://www.fairtrade.org.uk/en/farmers-and-workers/cotton)
Sign up to our email newsletter to keep up to date with new products and our news!