Ideas for Fairtrade Fortnight in Schools!
Here at fairandfunky we're very proud to be partners with a number of Fairtrade organisations. We've worked with Traidcraft over a number of years, and are delighted to welcome them as a fairandfunky Conference Partner, and to the blog! We're often asked for ideas for school assemblies, activities, tuck shops – look no further: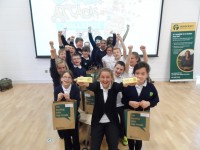 "Hello! My name's Caroline, and I'm the Schools Co-ordinator at Traidcraft, the UK's largest fair trade organisation. We're all here because we want to make a difference in the world, aren't we? We want to see everyone in the world treated fairly, and we want young people to know how important they will be in making the world a better place.
This can be tricky when you're a teacher – your time and resources are so stretched. The Traidcraft Schools Team want to make it as easy and faff-free as possible to get involved with Fairtrade Fortnight (27th February – 12th March) so we've created a little list of possible things you can get up to. Here goes…
Hold a Traidcraft Big Brew: The Traidcraft Big Brew is one of our biggest events of the year, whereby we encourage communities to come together, share a cup of tea, and fundraise for Traidcraft. You can adapt this however you like! You could hold a one-off Traidcraft Breakfast Club before school, hold a mini-Brew in the classroom (with juice and cookies), or invite parents and staff to mingle over Traidcraft tea, coffee, and nibbles.
Hold a Bake-Off: You could combine your Brew with a Bake Off competition – inviting teachers and pupils to bake cakes using fair trade recipes. This could also be part of a food technology lesson!
Hold a Traidcraft Snack Stall: Bring a team of pupils together to run a mini-enterprise scheme for the two week period, selling juice, biscuits, chocolate, or more healthy treats. Children can learn about business, money-management, customer service, market research, and even just how to work harmoniously together. (We can send you lots of free posters, banners, and leaflets to funk up your stall – too!)
Enter the Snack Attack Challenge: Our annual innovation competition has returned, and we're already eager to see what you come up with. Win £100 of Traidcraft products for your school by designing a fair trade snack and the marketing campaign around it. Prizes are awarded to three different age categories, so everyone has a chance to enter.
Download our Schools Magazine: If you're really stuck for ideas, or you're keen to learn more about how other schools engage with Traidcraft, download the latest edition of our Schools Magazine, stuffed with competitions, school stories, Traidcraft statistics, and even a free recipe for your Bake Off. We have a limited number of paper copies too, and you can order a free copy by emailing schools@traidcraft.co.uk , or ordering on the online shop.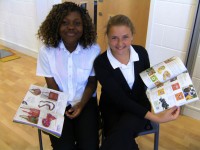 Of course – there's LOADS more you can do. Every school is different, and you can tailor all of this in whatever way you need to, from one little assembly to a two week programme of festivities. Don't forget that we offer schools discounts on our products (as well as other benefits), and you can read all about that on our schools website. Let us know what you're you're up to – we'd love to hear your stories!"
Caroline
Schools Co-ordinator
schools@traidcraft.co.uk
Sign up to our email newsletter to keep up to date with new products and our news!