Happy Birthday fairandfunky!
It is really important to us to empower people with the knowledge that you (yes you) can change the world – and this is what we do – in our workshops, at events, through our shop and as we network: we demonstrate that it doesn't matter how big or how small you are – we all have the power to make a positive difference in the world we live in.
On May 16th fairandfunky will be FOUR YEARS OLD so this week's Happy Birthday fairandfunky blog takes a look at our favourite things from our fourth year! It's hard to bring together a selection of highlights…..but here goes…..(in no particular order!)
A fairandfunky favourite thing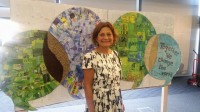 In June 2015 we were commissioned by Fairtrade Bristol to re-create the logo using recycled materials for The International Fair Trade Towns Conference!
We also ran workshops at the conference alongside our friends Koolskools, inspiring delegates to take Fairtrade to a younger generation. Our artwork had many admirers – including Harriet Lamb.
A fairandfunky favourite thing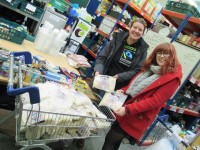 Back in September 2015 we took on the 90kg rice challenge from Just Trading Scotland – and we were determined to sell 90kg of rice four times over! With the help of churches, youth groups, individuals and schools WE DID IT!
And thanks to the generosity of many we were able to donate a trolley load of rice to The Welcome Centre in Huddersfield. To find out more about this please read our rice challenge blog.
A fairandfunky favourite thing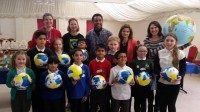 During Fairtrade Fortnight 2016 we ran not one fully booked Fairtrade conference for Schools, but TWO! In Huddersfield and Batley we were joined by 22 schools – all engaging in workshops to discover more about Fairtrade and how we can change the world for Fairtrade workers all over the world.
Huge thanks to Conference Champions Stafflex and Traidcraft – thanks to their support each school took a Bala Sports Fairtrade football home!
A fairandfunky favourite thing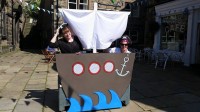 We like to encourage people to look at the world they live in a little differently – and our 'Story Sofas' project with Holmfirth Arts Festival did just that!
We put 4 sofas in the streets of Holmfirth – all upcycled and recycled into Story Sofas – the Sofa of Romance, the Sofa of Fairytale, the Sofa of Adventure and the Sofa of Holmfirth invited festival goers to sit for a while, look at the world around them and be part of a story!
A fairandfunky favourite thing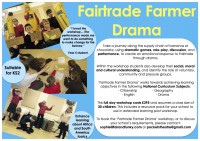 We're thrilled to have developed a new range of Fairtrade Farmer Drama workshops with a fellow Yorkshire business, Pockets Theatre.
Pockets Theatre 'creates exciting work that does something a little more than entertain – asks a tricky question, and shares untold stories' working with them, raising issues of fairness and sustainability through producer voices is a perfect match. We are VERY excited about this new partnership!
A fairandfunky favourite thing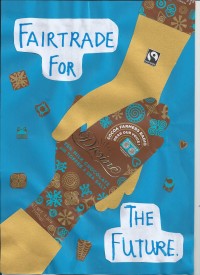 This is the winning entry to the fairandfunky 'Fairtrade For The Future' poster competition we ran in partnership with Divine Chocolate.
We had hundreds of entries – the finalists can all be seen in our facebook album – the judging panel had a difficult time choosing the winner!
And the best thing? The winning artist's school is now applying for Fairtrade School status! Empowering even more young people to change the world and make 'Fairtrade for the Future' a reality.
A fairandfunky favourite thing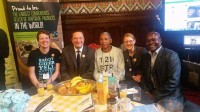 Thanks to our active involvement with Holme Valley Fairtrade and our constant lobbying of our local MP Jason McCartney we were part of the launch of the All Party Parliamentary Group for Fairtrade in Parliament during Fairtrade Fortnight.
Alongside Jason McCartney MP, Holly Lynch MP, the Minister of State for International Development, and Fairtrade producers Helen spoke to a room full of MPs. It was brilliant!
A fairandfunky favourite thing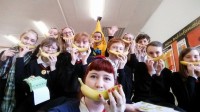 Possibly saving the best till last……this year we have become Co-operative Trust Partners at Honley High School and have been privileged to work with the brilliant students of their Fairtrade Forum.
The energy and enthusiasm of the Fairtrade Forum to change the world is infectious, and their dedication to 'make things fair for farmers' is inspiring. We absolutely love working with them……and they make fabulous cups of tea!
A sincere thank you to all who have joined fairandfunky in our fourth year, and taken your own little steps to change the world. And thank you to all who have supported fairandfunky – by shopping with us, joining in our events, giving advice and business support, attending our workshops and in many other ways. AND A HUGE THANK YOU TO ALL WHO HAVE SUNG 'HAPPY BIRTHDAY FAIRANDFUNKY' in our latest video!
We'd love to hear your fairandfunky highlights of the last year too! Tweet us @fair_funky or share your thoughts on facebook and tell us how you have taken little steps, with fairandfunky, to change the world!
Sign up to our email newsletter to keep up to date with new products and our news!