Guest Blog: 'Time for a Whole New Ball Game – with Fairtrade Sports Balls'
fairandfunky were really excited to work with Bala Sport to feature Fairtrade footballs as a BRAND NEW product on our online shop – a product that fits with all of the fairandfunky values, changing the world with a football! Read all about Fairtrade footballs in our latest guest blog from Angus Coull from Bala Sport:
"You're reading the fairandfunky blog so you know what's fair and what's not, and fairaindfunky thought you'd be interested to hear what our new co-operative is up to (they were so excited by it they became member investors) and how Bala Sport balls are actually made. All our funky looking balls carry your favourite, trusted Fairtrade Mark of course with all the benefits that comes with for the workers.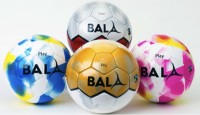 You might be wondering what's 'Fairtrade' about a ball though, sure it's a different story to the farmer grown products like coffee, cocoa, sugar and bananas. It's purely the labour that's certified, but the benefits remain the same.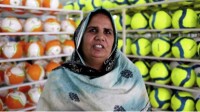 A lot of people are involved in the process of making a Fairtrade football. In Pakistan where our balls are made, men and women for religious and cultural reasons work separately. They're all producing the same balls, but in different stages of production and in separate parts of the factory or rural village stitching centres.
When you buy a really cheap ball in the shops it will probably have been made by a big machine somewhere like China in a plant that's highly automated and not providing so many jobs. All our Bala balls are either hand stitched (using a large needle and thread) or using a Singer style sewing machine (just like the ones we have at home). Before the balls reach that stage though they have to have the individual panels (ours have either 30 or 32) cut out (they're made from synthetic materials now, no water absorbing leather) and each panel with a logo etc on it screen-printed by hand.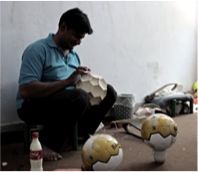 The really intricate bit is the stitching, especially using a needle and thread as in our Bala Team and Bala Pro balls. It's painstaking work, requiring good eye-sight and concentration, with a skilled worker will producing 3 or 4 balls per day. There's over 700 stitches in a 32 panel ball, so takes about 3 hours to stitch. Before the panels are completely sewn up, the latex bladder and air valve are inserted then the final stitch is carefully made.
Our Bala Team and Pro balls made and tested to the same rigorous standards as FIFA Inspected and FIFA Approved balls. This includes being fired at a steel plate at 55km an hour two thousand times! You can see this rigorous process of testing in a short video we made here on our website.
Help us kick out unfairness in sports ball manufacture
With high street shops offering super-cheap deals on footballs, that can only mean one thing – the balls are purchased as cheaply as possible from the factories – so even with economy of scale with bulk purchases etc somebody has to be a loser – who is it? The workers of course, and in countries like Pakistan they don't have much to begin with. There are only 6 factories in the entire world certified to produce Fairtrade sports balls – they're all in a small city called Sialkot in Pakistan. Around 70% of the world's hand stitched sports balls are made here, and all our Bala balls are made in 2 of the six Fairtrade factories.
Bala ensures that workers are paid a fair wage and enjoy safe working conditions and access to union representation. There is also no child labour allowed and the workers in the factories and rural hand-stitching centres also benefit from the extra 10% Fairtrade Premium. This is a cash sum that workers decide democratically amongst themselves which social development projects to invest it. Funds have so far been used to provide free eye tests and eye treatment, other free healthcare such as diabetes checks and the provisions of school bags and stationery as well as scholarships so that workers children can attend school. Fair price shops offering affordable household essentials, free transport to and from work are other benefits enjoyed by workers due to the Premium. One of the highest impact benefits however has to be the water purification plants built in part with funds from the Fairtrade Premium. These offer safe, clean drinking water not just for workers but for anyone from the community to enjoy. If you have a container you're welcome to rock up and fill it up with safe, clean water for free.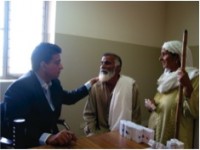 "For a few weeks, I had been feeling a headache. One day an "eye camp" was organised. The doctor checked my eye-sight and told me that my near-sight was not normal, rather it was weak and I would have to use glasses for the rest of my life. I got free medicine and glasses from the eye camp. I was grateful to the factory Fairtrade Joint Body from the core of my heart and prayed for them." Ihsan Ullah – Quality Assurance Department.
Currently less than a quarter of 1% of the 6 million or so sports balls sold in the UK each year are Fairtrade certified. Bala exists to increase that amount in order for more and more workers to benefit from the Fairtrade system on an ongoing basis.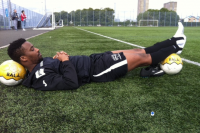 Bala Pro match balls have been used in friendly matches between fan owned FC United of Manchester and Benfica, and Stirling Albion and Hearts. FC United have promised to use Bala Fairtrade balls in any non-league matches they can.
We'd love you to think about buying a Bala Fairtrade ball for a Christmas or birthday present, or even for your local boys or girls club and help us spread the word and change the world with a football. The brave among you might want to challenge your local team to play fair. I was at the Homeless World Cup last month in Amsterdam –an awesome event where you could really see how the beautiful game has changed the players lives. We can change the lives of workers in a developing country too – by choosing Fairtrade balls."
Buy YOUR Fairtrade football from the fairandfunky shop HERE. Change the world, and help kick out unfairness in football manufacturing.
Sign up to our email newsletter to keep up to date with new products and our news!