Guest Blog from The Black Cat Bistro – Rice Challenge Rice Recipe
Fellow Holme Valley Fairtrade members The Black Cat Bistro join fairandfunky for the most recent guest blog here at fairandfunky.com. They have been joining fairandfunky to take their own little steps to change the world via the 90kg rice challenge, and have offered to share with us one of the many ways they make use of the Kilombero rice in their menu.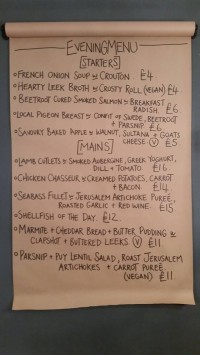 "Part of our ethos at The Black Cat Bistro is to support communities and producers both locally and globally. The produce used in our dishes is local, ethical and Fairtrade – something we are very proud of. Even though we are a small, independent business, we recognise that our actions in the bistro affect lives across the globe, as well as on our own doorstep in Holmfirth. Because of this, we regularly use fairly traded rice from the fairandfunky 90kg 'Rice Challenge' to feature on our ever-changing evening menu. So far we have served up the equivalent of 4kgs of fairly traded rice, with the goal to achieve 90kg just within our little bistro.
Our most recent menu features a traditional kedgeree dish, using the fairly traded brown Kilombero rice.  Here, we share with you how you can easily make this dish at home, and encourage you to join the 90kg rice challenge too!
Kedgeree with smoked mackerel, brown Kilombero rice and a soft boiled egg.
Ingredients: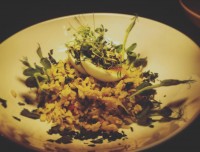 1 cup of Fairtrade brown Kilombero rice
1 white onion
2 cloves of garlic
2 smoked mackerel fillets
1 egg
A handful of spinach
Fresh parsley
1/2 tsp turmeric
1 tsp South African Masala spices
1/2 tsp Cumin seeds
3 Cardamon pods
Salt and pepper to taste
Instructions:
First boil the brown rice for roughly 10 to 15 minutes, making sure its tender but not overcooked. Then set to one side and allow to cool.
Next, finely slice the onion and garlic, put to one side.
Heat a little oil in a frying pan and add the the spices, once the seeds begin to crackle add the onion and garlic. Turn heat down and allow to cook.
Once onions become translucent, add the rice and flake in the mackerel fillets whilst removing the skin.
Add spinach and season to taste. Allow the flavours to combine.
 Boil a pan of water and add an egg, cook for 5mins.
Roughly chop flat leaf parsley and add to rice.
Stir the mixture together and place in a bowl to serve.
Peel the egg and add on top of the dish.
Garnish with more fresh herbs and serve!"
Why not have a go at making Kedgeree at home, whilst joining the fairandfunky 90kg Rice Challenge? We're always interested to know what little steps you're taking to change the world, so do share the results with us via Twitter or Facebook!
Sign up to our email newsletter to keep up to date with new products and our news!