Fairtrade Entrepreneurs!
Year 6 at Abbey Park Primary Academy are starting a new topic this term: 'Trade and Economics' and fairandfunky were asked to run a 'wow' workshop to kick start the topic, introduce Fairtrade and put trade into practice by making things to sell at the forthcoming Christmas Fair! We leapt at the opportunity.
All fairandfunky workshops encourage participants to look at the world around them and empower people of all ages with the knowledge that their actions can have a positive impact on the world around them; both locally and globally. This workshop focussed on Fairtrade as a way in which each of us can take little steps to change the world.
Throughout the workshop the students were challenged to think about the people behind the products they use and buy every day. Beginning with a focus on chocolate, participants were asked "Where did this bar of chocolate come from?" With initial suggestions including "shop" and "Cocoa!" the students were encouraged to think about all the people along the supply chain of chocolate, considering lots of questions: How does the cocoa bean get from the tree? How does it travel? Where is it made into chocolate? What other ingredients are used?

The students listed many different roles along the supply chain: from cocoa farmers to taste testers; from truck drivers to shop keepers. Students were challenged to think about all the people along the supply chain the next time they enjoyed a bar of chocolate! They discussed how it was possible to ensure every one along the supply chain was paid fairly for the work they did, particularly the cocoa farmer right at the beginning of the supply chain. How can we make sure farmers are paid a fair price for the work they do?
Fairtrade guarantees a fair price is paid to farmers. It also pays an added premium to invest in community projects: to build new schools, improve water supplies, invest in school buses, training and education for farmers and their families and more. Buying a Fairtrade product means the lives of farmers and their communities can be improved and each of us has the power to do just that. Buy Fairtrade and change lives. We can change the world when we shop.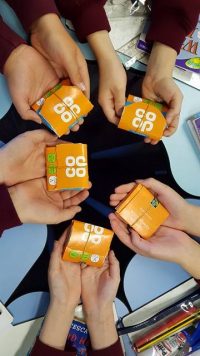 With this in mind each student made a wallet from a recycled juice carton so that when they go shopping, they can use their wallet and think about the people behind the products as they shop. Each participant placed a Fairtrade sticker inside each wallet. When you see the logo you are reminded to think about the people behind the product and shop ethically.
Year 6 are discovering all about being an entrepreneur this term and by spending time thinking about the providence of the things we buy we will encourage ethical trade.
In many countries where Fairtrade is a lifeline to producers, many people are entrepreneurs – using the limited resources available to make new things to sell.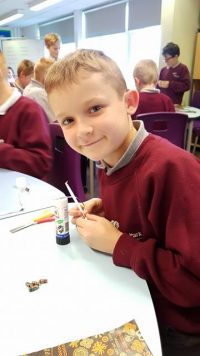 This often means using waste and recycled materials to create something new. Students learnt how to make paper beads using old Divine Chocolate wrappers, and in doing so discovered the tricky work involved and the need to be paid fairly for the work! Hopefully they will perfect the technique to create lots of bracelets to sell at the school fair and become entrepreneurs themselves.
Congratulations to all children in Year 6 at Abbey Park Primary Academy for learning about Fairtrade, recycling their rubbish into something new and taking your own little steps to change the world!
"An exciting and beneficial workshop that exceeded my expectations. Children really engaged and now understand what Fairtrade means. I would definitely recommend this workshop." Vice Principal.
To book a workshop for your school please email helen@fairandfunky.com
Sign up to our email newsletter to keep up to date with new products and our news!