Challenge fairandfunky!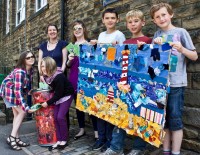 From recycled forests and yoghurt pot bikes, to giant Fairtrade farmers and recycledbanners, fairandfunky welcomes the challenge to design, make and create unique artworks with schools. How will your school change the world with fairandfunky?
These bespoke workshops are adapted to meet the specific needs of your individual school or class. To discuss your requirements, and receive a quote tailored for you, please get in touch.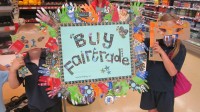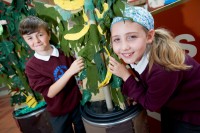 "fairandfunky have done a number of workshops for the Co-operative group, in schools, inside our stores, and in community venues. They are a joy to work with, very professional but also creative and approachable, so we were able to collaborate with them to achieve really good results.
We created a Fairtrade coffee farmer from re-cycled materials, this coffee farmer has gone on to be famous and is now residing in the Leeds city museum.We also worked with fairandfunky on workshops in six schools to create a Fairtrade Forest, spreading the Fairtrade word in a creative way.
I would recommend fairandfunky as a really good team, that work with you , who are great with young and old alike, who smile and have fun." Linda Gomila, Co-operative and Membership Officer, The Co-operative Group.
Our latest tweets

Tweets by @fair_funky
Sign up to our email newsletter to keep up to date with new products and our news!