Around The World with Fairtrade: Meet The Smallholders with JTS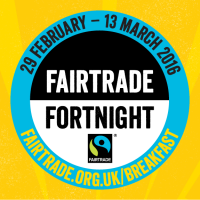 During Fairtrade Fortnight fairandfunky host TWO Fairtrade Conferences for Schools on the theme 'Around The World'. Inspiring over 200 children to think about where products come from and who made them; empowering them to change the world.  
Delighted to welcome Conference Partners JTS – Fair Food Fine Food to today's guest blog:
"The roots of Just Trading Scotland lay in helping to raise funds for townships in Apartheid-era South Africa through importing a variety of arts and crafts. It was through these interactions that we were able to develop an appreciation of the difference that giving someone a fair and dignified price for their produce and work could make in even the direst of situations.
Once our passion for this sort of work had been ignited we began to work in partnership with a variety from small holder formers from across the developing world in places like Swaziland, Kenya, India and Sri Lanka. These producers where able to provide us with the most amazing array of Jams, sauces, tea's and a vast range of other exciting products. Each of our producers not only create a fantastic product but also play a crucial role in developing their local economies, and improving the livelihoods of those around them.
In recent years our main focus has been on working alongside a Rice Farmers in the North of Malawi.  The area in which these farmers work is one of the poorest in the world, a major reason for this poverty is that education is far too expensive for the majority of people to afford, with less than 1 in 3 Malawian children being able to attend secondary school. By giving these farmers a fair price for their rice, we will enable them to invest in themselves and the education of their children, thereby giving these children the tools to be able to tackle their countries problems.
A huge part of this work has been promoting the 90kg rice challenge, where we challenge a church school or youth group to sell 90kg of fair trade Malawian rice, as this is the amount a farmer would need to sell in order to send a child to school for a year. Alongside the challenge we include a resource pack which includes school lesson plans, posters, and interviews with farmers from the area which helps to educate and inform about the amazing impact that fair trade has been able to have in the North of Malawi!
We're so keen to be involved with fairandfunky because of their amazing passion for Fair Trade, the work that they do perfectly exemplifies the amazing difference that two incredibly hard working people can make in working towards social justice.
It's a privilege to be involved with this conference as in order for fair trade to grow and be accepted as the norm rather than the exception, we need to get youngsters passionate and engaged. In the coming years it'll be their dedication to making trade fair that may herald massive changes in the way world trade is ran."
Sign up to our email newsletter to keep up to date with new products and our news!