fairandfunky – Schools Workshops, Fairtrade sales, ethical events and more!
fairandfunky CIC – who are we and what we do:
fairandfunky is a community interest company with the mission statement: empowering people to take little steps to change the world. We chose to be a community interest company as we are more that just an ordinary business. Our profits are reinvested into the company so we can deliver workshops for free to community groups, develop a fairandfunky festival and eventually train and employ local people.
We believe that as individuals we have the power to make a positive difference in the world; through the way we act, what we wear, where we shop and what we do. fairandfunky enables people to make those positive choices and empowers people to take their own little steps to change the world.
fairandfunky School Workshops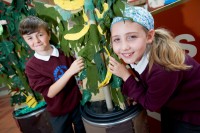 fairandfunky deliver interactive workshops on 3 key global themes: recycling, the environment  and Fairtrade; to schools and community groups. The workshops are adapted to suit either KS1 or KS2 and educate children on the issues presented by these 3 key global themes. The workshops range from creative arts to debates; from roleplay to junk modelling with a difference. All of which are suitable for a school based environment and youth groups such as guiding and scouting.
For more information click here!
fairandfunky Community Workshops and Events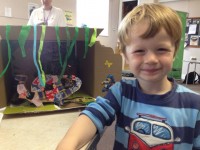 fairandfunky work with a number of community organisations to deliver unique SCRAPtastic workshops. All SCRAPtastic workshops only use recycled materials and engage participants with local and global sustainability issues.
Previous clients include: Holmfirth Arts Festival, Kirklees Markets, Fairtrade Yorkshire, The Co-operative Group, Huddersfield Food and Drink Festival.
For details on current SCRAPtastic workshops and events please click here!
fairandfunky pop-up shops
All of our products are fair and funky. They are either recycled products, fairly traded, or organic – sometimes all 3. We work with suppliers who can tell us where the product was made and by whom. We sell a range of gifts as well as homeware, jewellery, soft toys, books and soaps. This range will grow and change as fairandfunky grows.
As well as here on line we also sell our fairandfunky products at Holmfirth Parish Church and Imagine Toy Shop in Holmfirth.
We also pop up with our products at festivals, events, markets, and at home parties. We're always interested in new ideas so do contact us and let us know if you have a good one!
fairandfunky CIC was established in May 2012 by Helen Robinson and Sophie Bebb.
Helen Robinson is a trained primary school teacher with a degree in Environmental Science. After graduating Helen worked for VSO teaching biology and chemistry in a school in rural Kenya. She returned to the UK to raise her family and worked across Kirklees as a supply teacher. Helen co-founded the Holme Valley Fairtrade Support Group and together with others from the group set up a fairtrade co-operative in Holmfirth and worked as the buying and shop manager. Helen also loves Holmfirth, is committed to Fairtrade and thinks Tesco is swearing.
Sophie Bebb is an arts graduate with a degree in fine art skills and practices from Central St. Martins. Sophie is an active member of the Holme Valley Oxfam Support Group and is also co-chair of The Oxfam National Youth Board. She presented the Youth Perspective on Campaigns to the board of Oxfam International and organises campaign events at the Houses of Parliament. Sophie has a Continuing Professional Development qualification in the Fairtrade sector from Liverpool Hope University. Sophie is also bee mad, loves gardening and would like to keep chickens.
We hope that people who attend our workshops or buy fairandfunky products will be empowered to take their own little steps to change the world. You really can make a difference and you can start right now at www.fairandfunky.com 
Our latest tweets

Tweets by @fair_funky
Sign up to our email newsletter to keep up to date with new products and our news!