Yorkshire Schools Take To Parliament and Stick With Foncho!
Today's Go Bananas! blog is from the children at Upperthong School who joined us in Parliament last week. Following their fairandfunky workshop and meeting Foncho, these are their thoughts: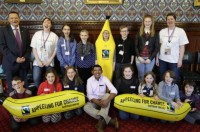 "Fairtrade can change someones life. Meeting someone who grows bananas makes me want to buy Fairtrade products. Even though I don't like bananas I am willing to go bananas for Fairtrade!" Lauren
"I learned that is important to buy Fairtrade bananas." Lily
"Fairtrade bananas have a massive impact on other peoples lives around the world. I have been inspired to buy Fairtrade items because I know that this will make someones life better." Maisie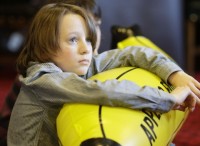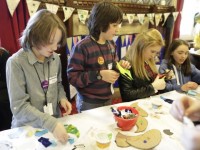 "In some peoples life bananas are so important. It is only fair that we go bananas for Fairtrade." Mollie
"What inspired me is how one banana tree can impact someones life. So go bananas for Fairtrade." Ellie
"I will buy more Fairtrade products like bananas. When I buy them I will think about how it can change the world." Ben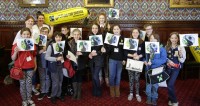 "It's amazing to think that supermarkets don't give a fair price to the farmers just so they have better deals than the other supermarkets. Bananas are the 4th most important crop but instead of having more sales/money banana farmers are barely able to get food on the table." Tabatha
If you, like them, agree that buying Fairtrade is important then please sign the Fairtrade Foundation's petition to STICK WITH FONCHO. It is together that we will change the world!
Sign up to our email newsletter to keep up to date with new products and our news!