Welcome to The Welcome Centre!
In September 2014, fairandfunky launched the 90kg rice challenge from Just Trading Scotland aiming to sell 90kg of rice three times over!  The rice challenge was taken on across the area: fairandfunky led assemblies in schools, facilitated 'Rice Challenge' workshops, attended Food Festivals across Yorkshire and had support from Churches and Fairtrade Support Groups.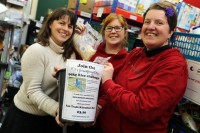 Alongside the challenge to sell 90kg of rice, fairandfunky set up the 'fairandfunky rice bucket challenge' for people to donate their bag of rice to The Welcome Centre in Huddersfield. and last week we were able to donate a bucketful of rice! You may have seen us in the Examiner.
But who is The Welcome Centre? And what do they do?  Emma Greenough from The Welcome Centre tells us here in a guest blog: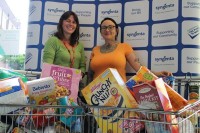 "The Welcome Centre, food bank and more is a registered charity and company and has been in the town over 20 years, supporting anyone in South Kirklees who is in crisis for whatever reason. We give out 200 packs every week that include fresh fruit and vegetables, milk, bread, and dried and tinned food as well as other items. We also support people with practical items such as bedding, clothing and pots and pans.
All the people we support are referred by one of the many frontline services in Kirklees. People are in real need in Huddersfield – every week people are going without food because they haven't enough money to make ends meet. They face impossible choices between eating and heating; feeding their children or paying the rent. Many are facing a number of challenges from mental health issues, drug or alcohol problems, job loss, debts or physical health as well as many more.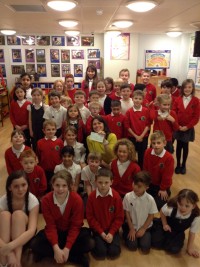 We rely on our community to support our service with donations of cash and food and have been inundated with support by local businesses, schools, individuals and community groups during the winter months. Those stocks will support us during the next few months and then we will face shortages again.
Cash donations enable us to purchase items at the best cost and with gift aid we can gain an extra 25% – that's equivalent to an extra tin of beans for every 4 bought.
We are always looking for new supporters and fundraising ideas – if you have some ideas or want us to come and speak to your group or business about how you can help please get in touch.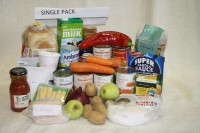 If you would like to donate food to the Welcome Centre food bank we are open Monday to Friday 10-4 p.m. for deliveries or you can telephone Emma Greenough on 01484 515086 and find more information on our  Facebook page, follow up on Twitter @Welcome_Hudds or Website : www.thewelcomecentre.org"
And if you would like to buy rice from the fairandfunky rice challenge and donate to The Welcome Centre please contact helen@fairandfunky.com or shop by clicking here! 
Sign up to our email newsletter to keep up to date with new products and our news!