Water for You, Water for Everyone: One World Week Guest Blog
During One World Week we are hosting a series of guest blogs from people and organisations who work to make a difference in the world; people who connect communities through trade, and through friendship.
The theme for One World Week 2013 is "More than enough?" Our challenge to our bloggers was show how we are all connected. And to demonstrate how if we all think about the actions we take in our local and global societies we do have "more than enough".
Today we hear from Edwin at GiveMeTap  – and how water is a resource we all have a right to access, but don't always have. And how YOU can change that and change the world.
Water is a precious and vital resource. I started GiveMeTap when I realised that access to this resource was restricted for so many people around the world. On one hand, we are encouraged to purchase bottled water even though we have some of the best quality tap water in the world. We are then throwing away these plastic bottles and creating mountains of waste. On the other hand, millions of people do not have a choice but to drink polluted ground water and subsequently suffer the diseases that follow. Water-born diseases cause more deaths than all forms of violence and wars combined.
GiveMeTap aims to solve both these problems through the sales of our stainless steel, reusable water bottle. We've built a network of over 290 cafés and shops will provide you with free tap water on the go, so you can refill your bottle with free tap water. Plus, for every GiveMeTap bottle purchased, we are able to provide one person in Africa with clean, safe drinking water. I like to think of it as 'Water for you, water for everyone'.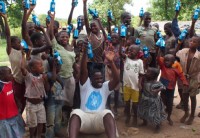 Last month, I embarked on a water project to Kpakpalamuni, a village in the Upper-West region of Ghana. Installing the water pump and meeting the villagers really put things into perspective and reminded me of GiveMeTap's purpose. Living in the city, we are bombarded with notions of the things we need in life. We 'need' new clothes, a shiny car or even that glass of wine after a hard day at work. We compare what we have to other people around us and it's easy to feel like you never quite have enough.
When I look at the bigger picture of the world, it is a very different situation. Millions of women and children are travelling miles each day simply to get water for their families. They are doing this with the knowledge that the water may cause life-threatening diseases. However, at the same time, by spending time with the villagers, I realised that these people had an immense quality of life, unrelated to material gain. They were happy, welcoming and so grateful for this resource we take for granted. The sense of community was amazing to witness. It was a humbling experience and I cannot wait to go back and help more people in the same way."
Simple actions really do change the world. Buy a GiveMeTap bottle and you are providing clean water for someone in Africa; as well as reducing your own consumption of plastic!  It is together that we will make a difference. It is together we will change the world.
Sign up to our email newsletter to keep up to date with new products and our news!