Things You Never Forget: One World Week Guest Blog
During One World Week we are hosting a series of guest blogs from people and organisations who work to make a difference in the world; people who connect communities through trade, and through friendship.
The theme for One World Week 2013 is "More than enough?" Our challenge to our bloggers was show how we are all connected. And to demonstrate how if we all think about the actions we take in our local and global societies we do have "more than enough".
Today we hear from Linda McAvan MEP  – about how she was inspired to campaign tirelessly for Fairtrade farmers; personally and professionally.
"There are some t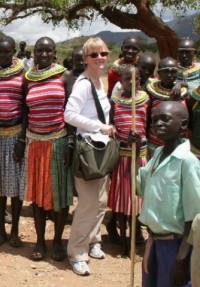 hings you never forget. One of mine is a visit to Ghana organised by Oxfam over a decade ago to look at the living and working conditions of small farmers.
We travelled around the country and learned about the incredibly hard lives of small farmers, how they struggle with an increasingly unpredictable climate, how they need better roads and communications to get their goods to market, how bad decisions by the IMF and other international creditors had destroyed state support for their produce (while US and EU farmers continue to receive generous subsidies), how they, some of the poorest on the planet, have to pay for the kind of public services we take for granted including schooling for their children and healthcare.
The idea of the trip was not, however, just to examine problems. It was to seek solutions and one of the solutions on the table was to encourage farmers to join a Fairtrade cooperative. As part of the trip we visited the Kuapa Kokoo cooperative in Ghana. There we met farmers and saw at first hand the benefits they received from being Fairtrade farmers. A guaranteed price, so they could make investments for the long term, more say over the use of chemicals and better environmental management. Equally importantly was the Fairtrade premium, which they are able to reinvest in community projects of their choice such as clean water, schooling and medical services. All the farmers I met were convinced that being a Fairtrade farmer was a better option for them and their families than being subject to the vagaries of the international markets and commodity price fluctuations.
I encountered a similar experience a couple of years later when I was invited to the Windward Islands to meet Fairtrade banana farmers. For the banana farmers in these tiny tropical islands, Fairtrade meant an extra 10 dollars a box for their bananas and access via the Fairtrade premium for funding for a range of community projects including bus shelters and nursery provision. What I learned from these farmers in Ghana and the Windward Islands is that buying Fairtrade makes a difference and that some of the simplest choices that we make in the supermarket or local shops can have the biggest impact on the families and communities who supply us with those goods, right across some of the poorest parts of the world.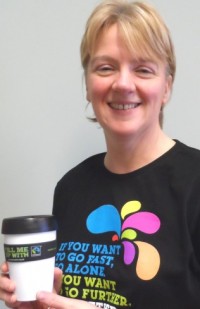 Shortly after these visits, the Fairtrade movement opened an advocacy office in Brussels and I was pleased to support their work by founding the European Parliament Fair Trade Working Group which I chair to this day. We work together as MEPs from all the political parties and countries across Europe to promote Fairtrade products and policies within EU institutions. We started small by switching our own coffee and tea suppliers to Fairtrade and campaigned for more Fairtrade products to be sold in our buildings, a small success but one which raised the visibility of the products and the concept. We followed this with political work and the adoption of a Resolution on Fairtrade and Development which called for EU budget support for Fairtrade producers and organisations in the EU who promote their work.  More recently, we have fought moves by some coffee companies who challenged the right of public authorities to adopt Fairtrade procurement policies.  I am currently working on supporting the Fairtrade beyond 2015 campaign which aims to entwine Fairtrade with the UN's next round of development goals post 2015. These goals aim to lift some of the world's poorest out of poverty and Fairtrade can help to make this happen.
These are tough times for many people but it is very encouraging to see that even when money is tight, Fairtrade sales in Britain continue to grow. When I see Fairtrade bananas now, I always think of the evening when I helped a woman farmer from the island of Dominica pack her Fairtrade bananas. A couple of years later, she visited Sheffield during Fairtrade fortnight and became emotional when we saw the same bags on the supermarket shelves. It is a small world and we are all more connected that you might first think.
It is inspiring to see the work that fairandfunky does in Holmfirth and beyond, so keep up the good work!"
Thank you Linda! All of us have the power to make a positive difference in the world. By sharing our experiences and taking action we can empower others to take their own little steps to change the world.
Sign up to our email newsletter to keep up to date with new products and our news!