The 'Rice Challenge' is back!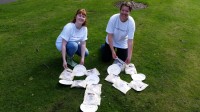 The 90kg rice challenge is the perfect challenge for fairandfunky. Our mission statement is 'empowering people to take their own little steps to change the world' and we do this through our range of workshops for schools and community groups. But we're also always on the look-out for ways in which we at fairandfunky can change the world.
So, the rice challenge is back! Last year, with the support of individuals, Fairtrade support groups, schools and more, we sold 270 bags of rice – meeting the 90kg rice challenge three times over, changing the world for Malawian farmers and their families.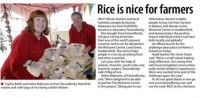 This year, we've also partnered with The Welcome Centre in Huddersfield, combining the Rice Challenge with an 'Alternative Harvest' enabling people to buy rice from Malawi and donate it to people in crisis in the UK. To quote The Huddersfield Examiner: "Two good deeds in one go!" Click here to buy the rice NOW!
So why the rice challenge? And why The Welcome Centre? For us it's about bringing communities together and taking positive actions both locally and globally. The needs for shelter, food for families, and access to education for children remain the same for people in Malawi and in Huddersfield.
The rice challenge is set by Just Trading Scotland who works in partnership with Malawian producers to import and sell rice in the UK. James Johnstone at Just Trading Scotland (JTS) told us more:
"A recent UN report ranked Malawi as the world's poorest nation and climate change has had a disastrous effect on the country in recent years, with unpredictable rains and severe flooding wreaking havoc on crops. Farmers do not have access to fair markets and receive poor prices for their crops, which deny them the opportunity to invest further in their livelihoods. I have been privileged to have had the opportunity to visit Malawi twice to work with local farmers. Witnessing the backbreaking task of farmers threshing sheaves of rice by hand is not an experience that is easily forgotten.
By working in partnership with our Malawians producers we seek to enable them to draw their own blueprint to escape from poverty; we use fair trade as a starting point to create a fairer global system. The main way we are able to assist these farmers is through 'The 90kg Rice Challenge'. 90kg is the amount of rice which farmers need to sell in order to send one child to secondary school for a year. Secondary school education is often too expensive and less than one in three Malawian children is able to attend.
Producers such as Abdul Phiri and Howard Msukwa have been able to use the profits garnered from their rice farming in order to provide secondary school education for their families, this would have been previously unattainable without the support they have received from JTS and the rice challenge."
As we embarked on the challenge last year many of our customers asked to be able to donate their purchase to a local food bank, to facilitate this we have partnered The Welcome Centre in Huddersfield. Emma Greenough at The Welcome Centre explains how our 'Alternative Harvest' is so beneficial:
"People are in real need in Huddersfield – every week people are going hungry because they haven't enough money to make ends meet. They face impossible choices between eating and heating; feeding their children or paying the rent. Last year alone we gave out over 8200 packs to more than 7700 people providing enough food for 7 days, we provide a breathing space for people in need and aim to stop a crisis turning into a tragedy.
We rely on local donors, support from businesses, fund raising events and grant applications to keep going. We must raise over 40% of our income through fundraising and donations. We receive some support from the council to help meet the increasing demand for our service, but demand has risen considerably over the last few years due to the credit crunch, welfare reform and our local economy. We're thrilled that fairandfunky have partnered with us in their alternative harvest."
We'd love to match our rice challenge sales of 270kg this year, but we'd also love to sell more! We're asking EVERYONE to buy rice (CLICK HERE!) from our online shop, and if you enter code RICE on checkout your purchase will be donated to The Welcome Centre. Together, we can change the world.
If your school or church would like to take on the challenge alongside fairandfunky please contact us for more information. We offer a 'Alternative Harvest' assembly and 'Farm to Fork Workshop' for schools – details can be found here:  http://www.fairandfunky.com/school-and-community-workshops/rice-challenge/
Sign up to our email newsletter to keep up to date with new products and our news!