The Original 'Bake a Difference' – Rice Challenge Recipe
The theme for One World Week 2014 is 'Living Differently' and this year our series of One World Week guest blogs promote the 90kg rice challenge. We have challenged ourselves to sell 90kg of rice three times over to change the world for farmers and their families: so they can live differently and break the cycle of poverty.
Each guest blog takes up the rice challenge – to encourage you to get involved and change the world as you eat delicious fairly traded rice.
Today's Rice Challenge Rice Recipe blog is from Traidcraft.
"Traidcraft's fair trade rice comes to you straight from the fields of India. It's grown by people like Daman Ram who relies on this source of income to feed his family and ensure a better education for his children.
So this Coconut Rice & Chicken recipe does more than just taste great – it provides hope to smallholder farmers in India. It offers people a route out of poverty – and the more fair trade ingredients you can bring in, the better it gets!
We hope you love this delicious recipe idea, donated to us by Tracy Mitchell, and to find more like it, look no further than our 'Bake a Difference' fair trade recipe book!
Coconut Rice & Chicken
Ingredients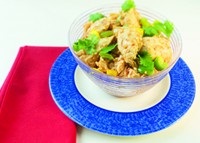 Serves 4
300g basmati rice
4 chicken breasts
2 tbsp sunflower oil
1 large onion, peeled
and chopped
1 tsp garlic paste
1 thumb sized piece
of ginger
1 small chilli, deseeded
and finely chopped
400g can of chopped
tomatoes
2 tbsp of fresh
coriander, chopped
3 peppers, mixed colours,
finely chopped
half a 400ml can
coconut milk
freshly ground pepper
Method
Rinse the rice and cook according to instructions on the packet.
Put the chicken breasts in a pan and just cover with water. Bring to the boil and simmer for 10-12 minutes until the chicken juices run clear when tested with a knife. Allow to cool and cut into cubes or slices.
Heat 1 tablespoon of oil in a wok or large frying pan and cook the chopped onion slowly with the garlic, ginger and chilli until the onion is soft, but not brown.
Add the tomatoes, bring to the boil and simmer and reduce until thick. Add the chopped coriander and cook briefly. Remove the sauce from the heat and put it in a bowl.
Add the rest of the oil to the washed frying pan and stir fry the peppers for 2-3 minutes. Add the coconut milk. Stir well, then add the tomato sauce, cooked rice and chicken.
Return to the hob, heat thoroughly, stirring all the time.
Decorate with extra coriander and serve."
To find out how you can take part in the fairandfunky rice challenge and change the world for farmers and their families in Malawi click here!
To take on the 9okg rice challenge for yourself – please get in touch with Just Trading Scotland.
Sign up to our email newsletter to keep up to date with new products and our news!