'Speak For The Trees' Poster Competition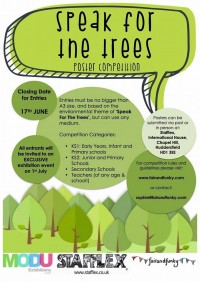 DEADLINE EXTENDED TO 15th JULY – SEND ENTRIES NOW!!!
Speak for the Trees is an environmental themed poster competition hosted by Stafflex and fairandfunky, sponsored by Modu Exhibitions, and invites children AND their teachers from Schools across Kirklees, Calderdale and Wakefield to create an environmental artwork on the theme "Speak for the trees".
The competition takes its title from The Lorax, as he "speaks for the trees, for the trees have no tongues" and encourages budding artists to think about the world around them.
"Unless someone like you cares a whole awful lot, nothing is going to get better. It's not."
The competition actively encourages creativity with children across Yorkshire, inspiring the next generation of artists to care about their local and global environments. Entries can be of any artistic medium and any size!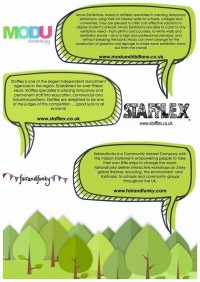 The Speak for the Trees competition is sponsored by local exhibition suppliers, Modu Exhibitions who specialise in supplying art display panels, temporary walling and modular exhibition stands to schools and colleges and the University of Huddersfield. Modu are happy to supply temporary display equipment in the run up to the event at a drastically reduced cost, download their brochure here.
The 'Speak for the Trees' competition is all about raising environmental awareness in a fun and interactive way. Children will get the chance to learn more about the importance of sustainability and their direct intervention in managing the planet whilst at the same time partaking in an exciting and rewarding competition. Prizes will be given to both individual winners and their representative schools to the value of £500 in total.
'Speak for the Trees' is open to ALL schools across Kirklees, Calderdale and Wakefield and prizes will be awarded in the following categories to both the winning artist and their school:
Primary category – ages 5-11
Secondary category – ages 12-16
Teachers category – age not specified!
GOOD LUCK!
FULL COMPETITION RULES:
Posters can be any size up to A3, and of any medium
Entries must be based on the environmental theme of 'Speak For The Trees'.
KS1 Early Years, Infant and Primary schools
KS2 Junior and Primary Schools
Secondary Schools
Teachers (of any age and school!)
Prizes will be awarded to the winner of each category: an art prize hamper for the artist (to the value of £100), plus offers from competition partners for the entrants school.
Entries must be submitted along with the following information: Entrants Name, Entrants Age, State Competition Category, Entrants School and Address, Contact Phone Number, Contact Email Address.
Posters can be submitted via post or in person at: Stafflex, International House, Chapel Hill, Huddersfield HD1 3EE
Competition open to students and schools based in Kirklees, Calderdale and Wakefield.
The poster must be the work and property of the entrant.
Some postal entries may be used and/or reproduced after the competition close date.
Closing date for entries is 15th July 2016. Any entries received after this date will not be judged. The judging panel will be formed by fairandfunky, Stafflex, MODU Exhibitions and local artists.
Winners will be announced at a special 'Speak for The Trees' finalists exhibition on Friday 16th September

.

 Details on this event will follow.
Entries will be published online and on social media via fairandfunky, Stafflex and MODU Exhibitions.
Competition entries will not be returned to entrants, and will become the property of fairandfunky.
Any further questions and comments must be directed to Helen of fairandfunky via email: helen@fairandfunky.com
Sign up to our email newsletter to keep up to date with new products and our news!