A New Favourite? Rice Challenge Rice Recipe
The theme for One World Week 2014 is 'Living Differently' and this year our series of One World Week guest blogs promote the 90kg rice challenge. We have challenged ourselves to sell 90kg of rice three times over to change the world for farmers and their families: so they can live differently and break the cycle of poverty.
Each guest blog takes up the rice challenge – to encourage you to get involved and change the world as you eat delicious fairly traded rice.
Today's Rice Challenge Rice Recipe blog is from Health By Gina – Founder of the worldwide Health & Happiness Movement, and an International Inspirational Speaker and Best-selling Author of 'How to Beat the Biscuit Tin Blues.' Be inspired….
"This salad could become your new favourite! Ready for a superfast and healthy meal? Enjoy as a meal, a side dish or add to a sharing platter.
Ingredients Needed: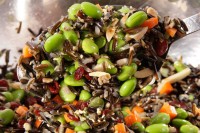 A handful of blanched slivered almonds
2 tablespoons white sesame seeds
2 cups of cooked rice
2 cups cooked wild rice (for texture and added depth)
3 medium spring onions, thinly sliced (white and light green parts only)
2 cups shelled cooked edamame beans
2 medium carrots, peeled and diced
A handful of dried cranberries
3 tablespoons rapeseed/extra virgin olive oil
2 tablespoons toasted sesame oil
Salt
Freshly ground black pepper
To make the salad:
Toast the almonds in a medium frying pan over a medium heat, stirring often. Do not let them burn! Aim for golden brown – about 8 to 10 minutes.
Transfer to a large heatproof bowl.
Toast the sesame seeds in the pan, stirring often, until golden brown. (about 2 to 3 minutes.) Add to the bowl with the almonds.
Add the rice, spring onions, edamame beans, carrots and cranberries to the bowl with the almonds and sesame seeds and toss to combine.
Whisk the olive oil, sesame oil, rice vinegar, honey, and a pinch each of salt and pepper in a medium bowl until combined.
Drizzle over the rice mixture and toss to combine.
Taste and season as needed.
Cover and chill for at least one hour before serving.
And enjoy!"
To find out how you can take part in the fairandfunky rice challenge and change the world for farmers and their families in Malawi click here!
To take on the 9okg rice challenge for yourself – please get in touch with Just Trading Scotland.
Sign up to our email newsletter to keep up to date with new products and our news!