Rice Challenge Rice Recipe: Arroz con Pollo
The theme for One World Week 2014 is 'Living Differently' and this year our series of One World Week guest blogs promote the 90kg rice challenge. We have challenged ourselves to sell 90kg of rice three times over to change the world for farmers and their families: so they can live diffferently and break the cycle of poverty.
Each guest blog takes up the rice challenge – to encourage you to get involved and change the world as you eat delicious fairly traded rice.
Today's Rice Challenge Rice Recipe blog is from Sarah Jolly – School Catering Manager and teaching assistant at Horbury Bridge CE Junior and Infant School:
"Fairtrade at Horbury Bridge CE Junior and Infant School goes far deeper than the odd lesson about the global impact ethical buying can have. The school introduced a Fairtrade policy two years ago which is reflected in every part of the school from encouraging children to play fair to using as many Fairtrade products as possible in cookery lessons and school dinners.  Whilst Fairtrade sugar, cocoa, chocolate and some spices are moderately available at supermarkets rice seems a little harder to find, so it is great that fairandfunky are taking the "rice challenge" and selling rice that will help the education of Malawian children.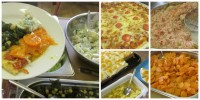 To support the year 1 and 2's topic of Spain the school recently held a special Spanish themed school dinner – an ideal opportunity to test a new rice dish on the children and to use some Fairtrade Kilobero rice. The children were served a range of vegetable tapas and Arroz con Pollo (chicken with rice) followed by either orange cake or peach flan. There was also a picture show of sights of Spain and flamenco music playing. Children were encouraged to try tasters of each dish to help extend the range of food they eat. The Arroz con Pollo went down really well so we'd love to share our recipe:
For 4 people: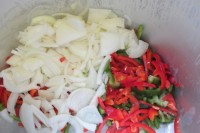 250g diced chicken breast
200g Fair Trade rice
1 green pepper
1 red pepper
1 medium onion
2cloves garlic
1 tin of tomatoes
1tsp oregano
1tablespoon olive oil
1 litre boiling water
* Slice the peppers and onion into strips.
* In a saucepan gently heat the oil.
* Add the peppers, garlic, onions and chicken and cook until the chicken begins to change colour.
* Stir in the rice, and then add the tomatoes and oregano.
* Add the boiling water and allow to cook for about 20 minutes, stirring occasionally. Add additional water if needed. Season to taste.
And enjoy, as we did!"
To find out how you can take part in the fairandfunky rice challenge and change the world for farmers and their families in Malawi click here!
To take on the 90kg rice challenge for yourself – please get in touch with Just Trading Scotland.
Sign up to our email newsletter to keep up to date with new products and our news!