Rice Challenge – Kenson Silungwe's Story
Each year we take on the 90kg rice challenge from our partners Just Trading Scotland. The challenge is to sell 90kg of rice – because when a farmer sells 90kg of rice they can afford to send their children to secondary school for a year. As we launch the rice challenge again this year, with the hope of achieving the challenge 5 times over (and reaching over 1000kg sales!) we introduce you to the rice farmers in Malawi. Each day this week we share their stories so you can meet the people who grow our food, and discover how buying rice in the challenge changes lives of farmers and their communities.
Today, read Kenson Silungwe's Story (words Just Trading Scotland):
This is Kenson Silungwe. He is one of the first children that Just Trading Scotland was able to sponsor through donations received as part of the 90kg Rice Challenge. He is the oldest brother in a family of 9, in his spare time he enjoys fishing with his friends and is an avid fan of FC Barcelona.
Thanks to the amazing generosity of people within the UK we have been able to support Kenson through every year of his secondary school education. Last year when he sat his exams he was able to achieve incredibly high marks and has been admitted to Lilongwe Agricultural University to study Dairy Science and Technology.
"Attending University is a dream come true for me and i want to inspire fellow youths particularly those who are from poorer backgrounds to work hard in class and realise their full potential." Kenson
At JTS it is our passion to make sure as many children like Kenson are able to reach their potential through secondary and further education. Whether as a result of improved income through the 90kg challenge or direct sponsorship we need your help to be able to do that. Will you join fairandfunky in their 90kg rice challenge?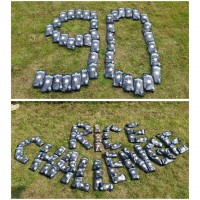 Click here to read our 'Alternative Harvest' blog and find out more about the 90kg rice challenge with fairandfunky.
Click here to read more stories from rice farmers in Malawi.
And click here to buy the rice! And please use code 90RICE to donate to the Welcome Centre and Food Bank in Huddersfield.
Sign up to our email newsletter to keep up to date with new products and our news!