REVIEW: 'Story Sofas' at Holmfirth Arts Festival
During Holmfirth Arts Festival, fairandfunky placed four sofas in the streets of Holmfirth – inviting people to look at the world around them a little differently. To sit down, stop for a while, and watch the world go by. Festival-goers were encouraged to: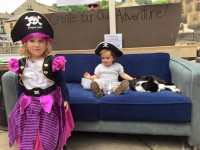 – Have a blind date with a book at the Sofa of Romance.
– Peek in the Pockets of Poetry at the Sofa of Holmfirth.
– Create your own adventure at the Sofa of Adventure.
– Step into a Fairytale at the Sofa of Fairytale.
At fairandfunky, we love a challenge when it comes to recycling, and 'Story Sofas' was just that – a giant recycling project. All four sofas were intercepted on their way to the tip, and given a new lease of life for a few more days. As well as this, we also managed to recycle 3 bookcases, 3 rugs, a coffee table, over 100 books, 2 baskets, a wicker chair, 3 cushions, and a number of fancy-dress outfits!
To animate the sofas, we programmed in a range of special events, which you might have stumbled across on your walk through Holmfirth….
We were treated to a range of poetry readings and story telling throughout the 11-day festival, with Rory Motion kicking off the events at the Story Sofas, reading to a very wet audience at the Sofa of Adventure. Holmfirth Writers Group peeked in the pockets of poetry, and read their own poems at the Sofa of Holmfirth, whilst Bright Red Marker brought her Poetry Jukebox to the Sofa of Romance! A particular poetry highlight for fairandfunky, was A Firm of Poets, touring the sofas on a very damp Sunday!
There were also performances galore at the Story Sofas during Holmfirth Arts Festival – from ancient Greeks, to bright blue fairies; Live brass band action from Eminence Brass and even a flash mob ukulele performance! Passers-by were even invited to take the podium for their own impromptu performance during a day of 'Say Something Nice'.
Lots of people (& even a cat!) enjoyed the Story Sofas, and we are glad they went down so well with the people of Holmfirth. If you enjoyed the Story Sofas during Holmfirth Arts Festival, do let us know, and share your photos with us.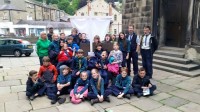 But the 'Story Sofas' story doesn't stop there: two of our Story Sofas were recycled once more! We are particularly pleased that Meltham C of E Primary School were eager to re-home the Sofa of Adventure in their playground, and are sure there are plenty more adventures to be had with it.
We were sad to see the Story Sofas go, but who knows what Holmfirth Arts Festival 2016 has in store for fairandfunky and the folk of Holmfirth….
Sign up to our email newsletter to keep up to date with new products and our news!