Put Fairtrade Into Your Break with Liberation
Here at fairandfunky we're very proud to be partners with a number of Fairtrade organisations. We've worked with Liberation over a number of years, and are delighted to welcome their MD Kate Gaskell, to the guest blog for Fairtrade Fortnight! And hopefully you'll be inspired to GO NUTS for Fairtrade:
"Liberation Foods was founded in 2007 when small-scale nut producers from around the world got together to bring their lovingly grown produce to the European Fairtrade market. Today, we are 44% owned by peanut, cashew and brazil nut producer co-operatives in Bolivia, El Salvador, India, Malawi and Nicaragua – united by a mission to bring the nut producers and consumers of the world together so that everyone gets a better deal.
All products are Fairtrade certified and, to the Liberation nut farmers, Fairtrade certification means a decent price for their crop – a price that covers their costs and enables them to keep farming. Thanks to the Fairtrade premium, farmers are able to invest back into their farms, co-operatives and communities as well as having the assurance of pre-finance to secure their crops and enable good planning and reliable supply.
What's more, they have a sense of empowerment from being directly involved in running a UK company – one that cares about food, people and 'doing business differently'.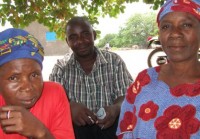 Take for example our cashew producers in Kerala, Fair Trade Alliance Kerala (FTAK). Their Vice-Chair, Aniamma Roy has helped to create a thriving community loan scheme through which female farmers are growing healthy, zero food miles produce for their families and supporting their kids' education. Her daughter is now training to be a nurse and her son studying for a degree in physics – neither would have been possible without regular sales of Fairtrade nuts.
Another great example is our small-scale peanut farmers in Malawi who are now able to export their produce for the first time ever and we continue to work directly with them to improve quality and output.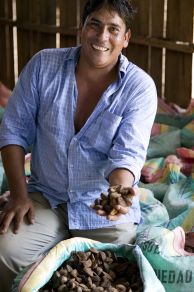 Over in Bolivia, brazil nut gatherers keep improving quality and efficiency – as long as they make a good living they keep the cattle-ranchers off their precious patch of rainforest whilst the peanut farming co-operative in Nicaragua has a focus on improving children's education and healthy eating in their communities.
All of this is made possible through the tireless work of Fairtrade ­­– changing the way people think about trade and the products on our shelves.
During Fairtrade Fortnight (27 February – 12 March), please join us and thousands of others across the UK to help our friends, neighbours, colleagues and communities to put Fairtrade in their break (perhaps by munching on some of our delicious nuts) and take exploitation out. More than ever we now need to amplify the voices of marginalised producers and stand firmly together.
Oh, and for those looking for any nutty inspired Fairtrade recipes as an extra special break time treat or to watch our short small-scale nut producer films, click here
http://chooseliberation.com/youtube/
https://chooseliberation.com/recipes-2/
Peace, love and peanuts – and have a great Fairtrade Fortnight!"
Sign up to our email newsletter to keep up to date with new products and our news!