Product of the Week: Recycled Glass Bottle Boards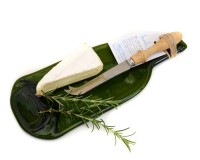 It's time for a spot of stylish recycling with our latest "Product of the Week" this week, which is or series of Cheese Boards, Lemon Boards and Spoon Rests, made from recycled glass bottles!
Made in Shropshire, these unique boards are made from recycled glass bottles, such as wine, gin and champagne, which are melted down in a kiln and flattened, to create each finished piece. Plus, to make the cheese boards completely amazing, the underside is etched with a pattern of grapes and vine leaves.
Each plate is accompanied with either a spoon, cheese knife or fruit knife, which are all also made in the UK, using local and sustainable wood sources. On top of this, even the packaging the product arrives in is made from completely recycled cardboard and wood shavings from the workshop.
At fairandfunky we know that re-using and recycling changes the world!  We love this product because it's putting waste to good use, just how we like it! So why not join us in recycling and changing the world by using this product, and enjoying a wedge of cheese at the same time?
Sign up to our email newsletter to keep up to date with new products and our news!