Product of the Week: Fairtrade String of Lights
Need a little light in your life? Well look no further, because our "Product of the Week" this week is this stunning set of Fairtrade String of Lights.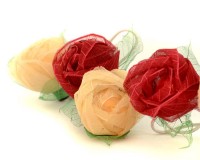 These lights are beautifully hand crafted using traditional methods, by villagers from a fairly trading group, based in the North of Thailand. All materials used to make these lights are sourced from the craftspeople themselves, and only use sustainable resources, avoiding any harm to the environment.
Fashioned from REAL leaves, the Rose and Carnation strings comprise of either Rubber Tree leaves or leaves from the Bodhi Tree. The Lantern and Paper Shapelights are handmade from Saa paper – paper made from bamboo. They provide a light incomparable to any form of synthetic made lighting and will add a warm glow to any room so that you will always want them switched on.
Sign up to our email newsletter to keep up to date with new products and our news!