Product of the Week: Beautiful Bamboo
We're ready for the Christmas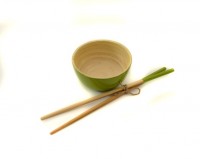 rush here at fairandfunky HQ, and have had LOADS of new and exciting products delivered just in time, including this great range of bamboo products which are our "Product of the Week" this week!
The new bamboo range is made up of a Bamboo Platter, Mini Bamboo Bowls and Bamboo Chopsticks, all of which are available in two vibrant colours of green or pink.
The bamboo is crafted in Vietnam, in a Fairtrade project, from coiled bamboo and shaped by hand. The vibrant exterior of the bowls, and the tips of the chopsticks, is food-safe lacquer derived from the cashew nut tree.
The project, based in Hanoi, Vietnam, works to provide sustainable employment for disadvantaged producers, and centres their work around three key fundamentals:
–       Fairtrade principals.
–       Awareness and protection of the environment.
–       Quality products with modern designs.
At fairandfunky we think that these new bamboo products fit perfectly with our own principals – they're fair, and very funky! So, whether you're ready to start your Christmas shopping or not, how can you resist this beautiful bamboo?
Sign up to our email newsletter to keep up to date with new products and our news!