The Power to Change The World with Swap Shop Sew!
We all have the power to change the world. The things we buy, the food we eat, the actions we take, the clothes we wear, all determine who we are; and in doing all of those things we make choices. And with those choices, comes real power – the power to change the world. At fairandfunky we empower people to take their own little steps to change the world. We do this by offering ideas and creative solutions in our events, by challenging thinking in our workshops, and by providing alternatives in our little online (and pop-up) shop.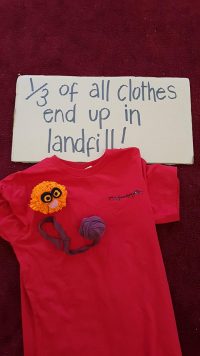 From recycling art projects to seed planting, from river clean ups to school conferences, from Fairtrade workshops to women's empowerment events; fairandfunky demonstrate the little ways each and every one of us can take steps to make a difference in local and global communities. And now there is a new event to join in with and create change: Swap Shop Sew.
Did you know a third of all clothes bought in the UK each year end up in landfill? Did you know that "by doubling the use of clothing from one year to two years emissions can reduce over the year by 24%"(Greenpeace 2016) It was this knowledge that inspired us to join forces with Upcycle Fashion to host 'Swap Shop Sew' in October 2017. It was a brilliant event (funded by The Bright Green Community Trust.) Over 100 people came together to swap 362 garments, saving almost 80kg of textiles from ending up in landfill!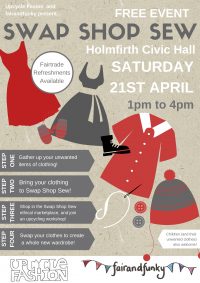 'Swap Shop Sew ' returns to Holmfirth Civic Hall on Saturday 21st April and we hope to attract more people to come along with their old clothes, swap them for new, take part in Upcycling workshops, enjoy a Fairtrade cup of tea (or two!) and shop in the ethical marketplace.
To 'swap' you need to bring up to 10 pieces of unwanted clothing from your wardrobe – on arrival these will be exchanged for tokens for you to use to 'buy' from the swapping rails. It takes time to sort these rails so as you wait you're invited to take part in Upcycle Fashion upcycling workshops, shop in the ethical marketplace and relax with a slice of cake, washed down with a Fairtrade brew.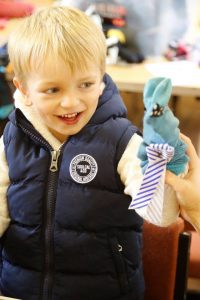 The 'swap' is open to people of all ages – we welcome children to come along and swap their old clothes too. The more young people who join the event, the more clothes there will be for them to swap. So please, bring the teenager (and their clothes)! The workshops are great for beginners, and experts, of all ages so there is plenty to keep everyone occupied.
Swapping clothes is an alternative to 'fast fashion' and in fact a new revolution is underway – The Fashion Revolution. Fashion Revolution is a global movement calling for greater transparency, sustainability and ethics in the fashion industry. They want to unite the fashion industry and radically change the way our clothes are sourced, produced and purchased, so that what the world wears has been made in a safe, clean and fair way. At fairandfunky and Upcycle Fashion we're proud to be part of The Fashion Revolution with 'Swap Shop Sew'. And when you come along to Holmfirth Civic Hall you'll be part of too. Together we will change the world – there is no time to waste.
Event details: Swap Shop Sew is at Holmfirth Civic Hall on Saturday 21st April from 1pm – 4pm
Please bring up to 10 items of unwanted clothing, register at check-in desk and leave your items between 1pm and 2pm. You will receive a receipt for your items.
After registering your unwanted clothing you can SHOP in the ethical marketplace, and SEW as you join in with the upcycling workshops.
The Swap Shop Sew cafe will be serving Fairtrade refreshments and delicious baked goods from 1pm – 3pm.
The SWAP opens at 3pm – please browse the rails and tables to choose the garments you like.
Take your chosen SWAP garments to the check-out desk along with your receipt to take home and enjoy!
If there are garments left then you may take more items than you brought – we kindly ask for a donation to be made to Swap Shop Sew.
Any surplus clothing will be donated to charity at the end of the event.
The event is run and organised on a not-for-profit basis by fairandfunky and Upcycle Fashion – if you would like to be involved in the event as a volunteer please email helen@fairandfunky.com
PS: Do visit www.fashionrevolution.org for more information on THE Fashion Revolution – how you can get involved, brilliant resources, and amazing fanzines packed full of inspirational ideas to take little steps to change the world.
Sign up to our email newsletter to keep up to date with new products and our news!