Perfect Pudding! Rice Challenge Recipe
The theme for One World Week 2014 is 'Living Differently' and this year our series of One World Week guest blogs promote the 90kg rice challenge. We have challenged ourselves to sell 90kg of rice three times over to change the world for farmers and their families: so they can live differently and break the cycle of poverty.
Each guest blog takes up the rice challenge – to encourage you to get involved and change the world as you eat delicious fairly traded rice.
Today's Rice Challenge Rice Recipe blog is from Christina Longden from The Lorna Young Foundation:
"
We're normally asked to comment on ethical supply chains and how our work helps poor people at both ends of the supply chains. So this is a first for all of us at the Lorna Young Foundation/Not Just a Training Company!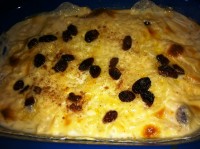 Because we are definitely not the Bake-Off maestros….but when it came to a subject which is so close to our heart – JTS and Malawian Kilombero rice…how could we resist?  A few years ago, we raised money for these very farmers to be able to purchase a de-stoner for this very rice! As well as funding to receive training for the co-operative. So as you can imagine – ever since the first shipment reached JTS, we have been loyal scoffers of the stuff!
And here is our favourite recipe (which some of us eat as a yummy, warm n' healthy breakfast. An alternative to those who don't like porridge etc!)
RICE N' RAISIN KILOMBERO PUDDING (or Breakfast!)  Serves 6 – 8
–          100 g Kilombero rice
–          1 ¾ pint of milk (full cream is best, but even skimmed is nice with this rice!)
–          50g of Caster Sugar or Demera sugar (or mix half of each as I do)
–          Handful of raisins
–          20g Butter – to add 'blobs' to the top
–          Nutmeg freshly grated OR half a teaspoon (to sprinkle on top)
1)      Wash the rice and add the milk and sugar/s.
2) COOK – OVEN – full time in the oven would be 2 – 2 ½ hours on 150c
MICROWAVE – would be at 30% of full power for 25 to 35mins
(NB – We like the 'finished effect' of the ovenbaked approach – but we are impatient. So you can always bung it in the microwave for 15 mins at 30% and then estimate (by seeing how soft the rice has become) by finishing it off on an oven bake at 150c.  But whichever approach you choose – when you only have about 10-15 mins left of cooking time, take the dish out and blob cherry sized blobs of butter on top. Add raisins and some nutmeg for that lovely golden topping!)
*NB – stir at least 4 times throughout cooking."
To find out how you can take part in the fairandfunky rice challenge and change the world for farmers and their families in Malawi click here!
To take on the 9okg rice challenge for yourself – please get in touch with Just Trading Scotland.
Sign up to our email newsletter to keep up to date with new products and our news!