New Directors at fairandfunky CIC – Welcome Rose Condo
As fairandfunky embark on the next 5 years (and more!) of empowering people to take their own little steps to change the world we are thrilled to be joined by a team of new directors – ready to challenge us, work with us, grow with us and help move forward many of our fairandfunky ambitions to change the world. This week we welcome one new director, Rose Condo, to the guest blog:
"A few years ago, my mum taught me how to crochet. I quickly discovered that the easiest thing to crochet is scarves, and I have given a lot of scarves as gifts. This past year, I became more ambitious and learned how to crochet hats. I made a lot of hats, I now have a lot of hats, and I have given a lot of hats as gifts.
When Helen and Sophie approached me to consider joining the fairandfunky Board of Directors, I was humbled and intrigued. I had long admired (…or 'taken my hat off to' if you will!) the work they achieve. Their invite got me thinking about my own past work in taking steps to change the world. In that regard, you could say I've worn a lot of hats.
In 2008 I joined Grands'n'More in Winnipeg, Canada (my country of origin). This local group was part of Grandmothers to Grandmothers – a national campaign with the Stephen Lewis Foundation working to support African grandmothers who were raising their grandchildren because their own children had died from HIV/AIDS. All across Canada, grandmothers (and grand 'others' like me!) worked on local advocacy activities on behalf of this Campaign, which raised over $1 million in its first year.
There were potluck suppers, film events, comedy nights –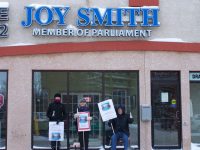 I even stood with other Grands'n'More members outside an MP's office in -40 degrees winter temperatures to raise awareness (that's me on the left). Most memorably, I attended the national conference in Ottawa, where I heard women from South Africa speak about the impact the campaign had made for them, and sat among hundreds of other women whose collective ages, experiences and enthusiasm were truly changing the world.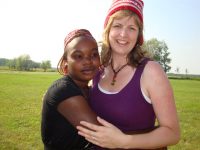 In 2009 I worked with the Winnipeg Youth Peacebuilding Project, which brought youth of diverse backgrounds together to build positive meaningful relationships, overcome biases, and reinforce positive understanding and respect. With a background in theatre and performance, I led drama games at the week-long Peace Camps (here's me with one of the campers). Through laughter and silliness, I watched tensions ease, barriers come down, and friendships evolve.
Three years later, I was living in the UK starting my job as Head of Community Engagement at the Lawrence Batley Theatre in Huddersfield. This was a new and challenging 'hat' to wear, and enabled me to work on many local projects that reduced barriers to arts engagement for young people and communities across Kirklees.
And now in 2018, my current 'hat' is as a full time writer, poet and educator. I perform at festivals and events around the UK, and get to engage with lots of different communities. I have toured a show called How To Starve An Artist – which encourages people to nourish their inner creativity (and was Runner Up Best Spoken Word Show in the UK in 2017!). And I get to lead workshops with a range of different groups, offering small creative writing steps towards building confidence, extending learning about the world, and pursuing big dreams.
I am so delighted to don this new 'hat' as a fairandfunky Director. I look forward to supporting their planning as the next stages of their work evolves and builds on all their fantastic achievements so far. It will be really exciting to collaborate with such a vibrant, energetic and visionary group of people. Hold on to your hats folks … fairandfunky is changing the world."
Sign up to our email newsletter to keep up to date with new products and our news!