New Directors at fairandfunky CIC – Welcome Hannah Tombling
As fairandfunky embark on the next 5 years (and more!) of empowering people to take their own little steps to change the world we are thrilled to be joined by a team of new directors – ready to challenge us, work with us, grow with us and help move forward many of our fairandfunky ambitions to change the world. This week we welcome one new director, Hannah Tombling, to the guest blog: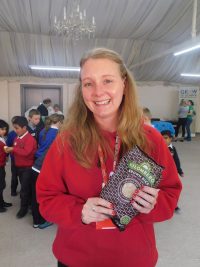 "Lists … I like lists…they make me feel like I am slightly organised (!) and I love ticking things off… I have lots of different lists… for work, for Brownies, for home, for the boys and now I can happily add fairandfunky to my lists.
My current list is ready for half term, as a teacher, wife to a head teacher and mum of three boys, who I affectionately call the Tombliboos, school holidays are an exciting time. Planning our adventures, exploring and getting to spend time together. Our list for half term includes a Lego workshop, at least 1 football match, coffee and cake, movie night and the biggest Tombliboo's birthday (he will be nine!). Smallest Tombliboo wants to bake and medium Tombliboo wants to catch a spider for his Spider World!
As part of my role in schools, I have always worked under the umbrella of Eco Schools running successful Eco Councils who I have taken to fairandfunky conferences. The messages Sophie and Helen have promoted have always gone hand in hand, with what I have cultivated in my role as Eco Schools leader at my last school and my current school, Diamond Wood Community Academy. Taking these little steps to change the world, may that be through Fairtrade Schools, promoting walking to school or campaigning to promote a litter free school.
When Helen and Sophie approached me about becoming a Director, I was surprised, excited and interested. So, I arranged to meet for a cuppa at the Mining Museum to find out more. The role is 'right up my street'…I said to Helen… After four Green Flag Assessments in two schools over the last 10 years and successfully promoting Fairtrade within schools, I knew that Sophie, Helen and I were on the same page. Having an Eco Council within a school gives children a voice. At Diamond Wood our oldest children are Year 2, despite their young age our Eco Council children have organised themselves to run campaigns, meet MPs, write to local businesses and much more. We are a Green Flag and a FairAchiever School and we are proud of it! The children at Diamond Wood are already taking those little steps to change the world…and they are taking the rest of the school, their families and community with them.
So why do I want to be a Director of fairandfunky…? Why… because it is something very close to my heart, something I believe in, because I want the world to change for the better for our three boys, because I want the world to change for the better for the children I teach… because I want to take little steps to change the world."
Sign up to our email newsletter to keep up to date with new products and our news!