Local Hero Peter Beetlestone: Fairtrade Fortnight blog
We asked: "How do you Go Further for Fairtrade and Change The World?" This is Peter Beetlestone's answer:
I am passionate about Fairtrade. I encourage others to buy Fairtrade products, to achieve Fairtrade status and to be involved in Fairtrade events. This has led me to meet lots of interesting people who are equally passionate about Fairtrade.
Why Fairtrade? I view my involvement with Fairtrade as a Christian response to the poverty in the world. It is helping people work their way out of poverty by giving them a fair deal. Every Fairtrade purchase is making a positive difference somewhere in the developing world.
I am a big supporter of the latest Fairtrade Venture in Holmfirth. fairandfunky is a Fairtrade and ethical sales outlet but they are much, much, more than that; they are spreading the message to young and old through their enthusiasm, workshops, pop up shops and campaigning. Their recently launched website is amazing, even silver surfers like me can find their way round it easily – it is worth having a look!
In 2004  a group of like minded enthusiasts formed The Holme Valley Fair Trade Support Group, and in 2006 we achieved Fairtrade status, just missing out on being the first Fairtrade area in this region. We have organised many events from Fashion Shows and film nights to Buns, Bananas, Bunting and Bloomers.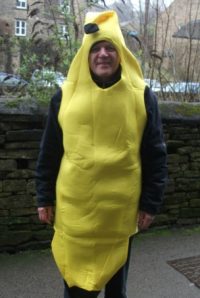 I represented the group at meetings to establish a Kirklees Fairtrade Group who have recently achieved Fairtrade status for both Huddersfield and Kirklees. I also represented both groups at Yorkshire Fairtrade meetings and they too have very recently achieved Fairtrade status.
Locally the Methodist Church has been involved with a similar progression to achieve Fairtrade Status: first a Fairtrade Church – Holmfirth Methodist, then a Fairtrade Circuit – Holmfirth Circuit, then a Fairtrade District – West Yorkshire. Churches have been encouraged to designate the middle Sunday of Fairtrade Fortnight as Fairtrade Sunday.
Achieving Fairtrade Status for a group is a brilliant vehicle for generating interest in Fairtrade and involving more and more people in the helping to make our world a fairer place.
One of my steps for Fairtrade during this Fairtrade Fortnight is to put to the Fairtrade Foundation a scheme for "Fairtrade Families"; I also intend to persevere with my campaign with Marks and Spencers. Why not join me?  Several years ago they launched Plan A which involved a commitment to Fairtrade and they launched several ranges of clothing with Fairtrade cotton.  Every time I visit Marks and Spencer I ask for Fairtrade clothing, the answer after searching is usually "sorry Sir". I will keep asking and keep emailing Customer Services, please join me and Go Further for Fairtrade and Change The World.
Sign up to our email newsletter to keep up to date with new products and our news!