Join the "Bananas Bandanas Band!"
We are delighted that today's Go Bananas! blog is from children and staff at Horbury Bridge Junior and Infant Academy. A school dedicated to embedding Fairtrade across the curriculum…….
The following blog was written by Joseph Bayford (year 5) and Jakob Hayward (year 6):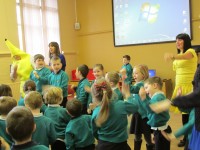 To celebrate Fairtrade Fortnight we had a Banana day because this Fairtrade Fortnight is all about bananas. We started the day with a very different assembly which contained Mrs Jolly dressed as a banana whilst singing "Bananas of the World Unite".
We had a Fairtrade lunch linked to bananas, there was curry and bananas. The menu had loads of Fairtrade products in it – spices, bananas, dried mango, cocoa, rice, and sugars.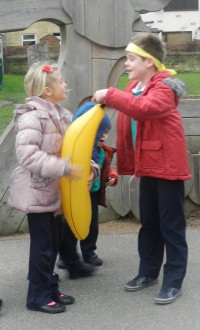 In addition to the special lunch, we held some lunchtime activities and these were led by "The Banana Bandanas Band", a group of year 5 and 6 play leaders. They were easily identified by their yellow band. We could throw an inflatable banana like a javelin, decorate banana shape biscuits, make bunting and see how far a banana can run. Each javelin throw was marked by a banana marker and competition was tough to see who would throw the furthest. The winner won a Fairtrade banana and a bar of Fairtrade Chocolate. The rain affected the banana run but the other activities were moved inside. Despite the bad weather we didn't give up.
Whilst we were doing the activities we all were reminded why we were doing it – not just to have fun. We were doing it because we wanted to help the Fairtrade farmers.
Everyone really did have a wonderful time; Lucas Smith gave the day 10 out of 10! In Class 1, Year 2's Cara and Isabelle said "The activities were incredible and Fairtrade was incredible as well"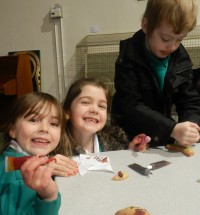 Mrs Jolly added: "Horbury Bridge Junior and Infant Academy is a strong supporter of Fairtrade, always looking for different ways to teach children to be fair and care about the world around us. Fairtrade Fortnight is an ideal opportunity to show how individuals can #changetheworld by changing their shopping habits. All age groups have looked at Fairtrade over the week – the younger children role playing the journey of bananas from tree to shop and sewing bananas in pyjamas whilst the older children have been researching Fairtrade.
The year 3's and 4's made this amazing video to show their Fairtrade knowledge http://bit.ly/1iXbkWC"
We hope this ideas inspire you to join the #BananaArmy and Go Bananas for Fairtrade! Join Horbury Bridge Junior and Infant Academy on twitter to keep up to date with ALL their fantastic Fairtrade activities.
Sign up to our email newsletter to keep up to date with new products and our news!