Join the Banana Army!
Today's Go Bananas! guest blog is from Sue Bentley, the Chair of the National Campaigner Committee at The Fairtrade Foundation. The voice of the campaigner is paramount – and demonstrates the power of the individual; the power of YOU. 
"I first heard of Fairtrade ten years ago when we wanted to re-launch our church cafe, and someone suggested that we made it "Fairtrade". Ten years on and the Fairtrade movement has taken me on an amazing journey. From doing a Fairtrade talk in someone's front room to making a presentation at Lambeth Palace. From starting a steering group in my home town to chairing the National Campaigner Committee. How did that happen?
As someone who tries to be a good Christian, Fairtrade was a great way for me to express my faith by practical action, so I popped up in churches, schools and community groups. I acquired my favourite nickname, Mrs Fairtrade, after regular sessions at local schools prompted some school kids to shout it (hopefully kindly) in the street when they saw me.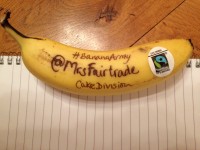 I do a lot of my campaigning on twitter at the moment as @MrsFairtrade and rarely a day passes without some Fairtrade tweets and chat, sometimes right across the world. I have also met some brilliant people there who bring their own knowledge of Fairtrade and a big sense of humour to the whole project.
So far, so good. However, sometimes as a Fairtrade campaigner it is all too easy to get overwhelmed by any number of issues:
All these new ethical labels out there – do I need to know about them?
What about Fairtrade and big business – is that the only way forward now?
I still can't find much Fairtrade in the supermarkets – are we losing the battle?
Sometimes the dilemmas, though smaller, are equally perplexing.
Will the Fairtrade Fortnight campaign materials ever arrive on time?
Could I face wearing that banana suit? (It's a no from me)
Can we keep the Steering Group going for another year and, if not, what shall I do?
I am sure many UK campaigners will, like me, have had at least one of those questions in their mind in the last few weeks. So much has been achieved and yet it seems we have barely started on this campaign for trade justice. But there is good news.
In Fairtrade Fortnight this year we have the chance to campaign in a more focussed way than ever before. We know that UK supermarkets are hurting banana farmers with their pointless banana price wars and we can call them out to behave better in future. This is not just about Fairtrade, it is about justice. Stick with Foncho, join the Banana Army and let's make this our best campaign yet!
And look at what the Fairtrade movement has achieved to date. Across the world people are stepping up to support Fairtrade, from the very smallest in children's nurseries to the most powerful in multinational corporations. Producer countries are establishing their own Fairtrade markets and campaign groups, and are set to drive the Fairtrade agenda for the future. There is still so much for us to take forward together, nationally and globally.  The Fairtrade movement continues to bring out the very best in all of us and challenges us through our actions to change the world."
The banana army is ready! As the blog goes live the banana army includes:
Follow them on twitter, use the power of your voice to join them and change the world. 
Sign up to our email newsletter to keep up to date with new products and our news!