'Imaginariums!' – A Workshop Review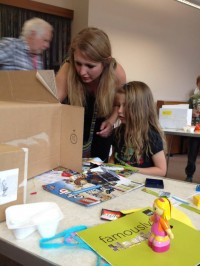 As part of this years Holmfirth Arts Festival, fairandfunky hosted a drop in SCRAPtastic workshop, during which participants were invited to enter a world of imagination! Using a range of recycled and found materials they were encouraged to create a world within a box. Weird and wonderful worlds were created – from bat caves to Tokyo skylines, dinosaur jungles to butterfly utopias!
We were lucky to have Holmfirth Arts Festival team member (and fairandfunky friend), David Stephenson as a steward during the workshop, so we asked him what he thought of 'Imaginariums!':
"I recently had the pleasure of stewarding at fairandfunky's 'Imaginariums' workshop for the Holmfirth Arts Festival. The afternoon was a resounding success, with many young punters (and their parents) coming from all over Yorkshire to take part. The children threw themselves into the activity with great enthusiasm and it was a real thrill to see young imaginations running wild. Several parents gave extremely positive feedback on the event, with many complimenting Helen and Sophie's relaxed and friendly style. I would like to see more hands-on workshops aimed at children at future festivals, especially when the response is so overwhelmingly positive."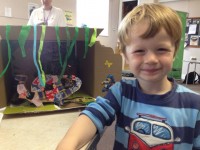 All fairandfunky workshops encourage participants to think about the world around them in imaginative, enjoyable arts projects where young people of all ages have the freedom to be creative and get messy!
fairandfunky would like to say a huge THANK YOU to Dave from Holmfirth Arts Festival for his support and feedback.
Sign up to our email newsletter to keep up to date with new products and our news!