Harvest Time!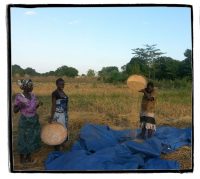 It's harvest time for rice farmers in Malawi at the moment and our friends at Just Trading Scotland have told us that "Farmers are looking forward with hopes and with a few anxieties: will the rains in the next weeks continue to help swell the grains and the crops? Will the markets after harvest give them good prices to meet their families' many needs throughout the year?"
We're proud to regularly take on the 90kg rice challenge as it ensures the farmers have a guaranteed market for their rice once it is harvested. To date we have sold of 1000kg of kilombero rice and this month we're working with Diamond Wood Academy on our 12th challenge! Will you be our 13th partner? Do get in touch to find out more.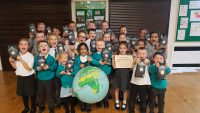 Back in September we worked with Gomersal St Mary's Primary School, the children were fascinated to discover how rice is grown and the life of the farmers; and wrote a series of questions for the rice farmers to find out more. Thanks to the KASFA business manager in Malawi we now have answers to those questions – and they're so good we've posted them here in full. We hope you find them as interesting as we did, and inspire you to either buy a bag of rice or take part in a 90kg challenge with us!
Children's questions are in bold, farmer's answers in italics. Photo credit for all photos is Just Trading Scotland.
How long does it take to grow rice? It takes 5 months to grow.
What do you eat? What do you like to drink? Sima, rice, fish, beans, beef, vegetables, Coca-Cola, water, squashes.
What do you sleep on? Sit on? I sleep on a wooden bed and mattress- traditional stools and wooden chairs are used for seating. But most people do sleep on mats made from banana leaves.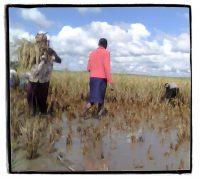 Is it hard being a rice farmer? It's very hard because we mostly use manpower as opposed to mechanization. Malawi is agro-based country and we have no choice other than farming.
What is your favorite thing to do? I like washing clothes. What time you get up? 5:00am
How do you manage if it doesn't rain enough? Then the little that I get I sell and buy maize. We grow different crops like cassava which does well with little rains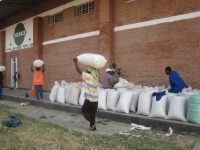 How do you carry sacks on your head? It's an art which we learn from childhood like water is drawn from bore holes or wells that are not close to home and you need to carry the bucket at the head
How many grains do you get in one year? It's difficult to count the grains but on average with good rains a family can harvest 1000kgs of paddy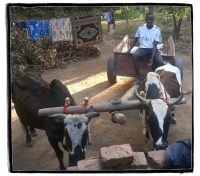 How do you earn enough to earn a cart? When sell enough rice (about a tone of paddy) it can be enough to buy a cart. It's not easy to have a tonne of rice but through Scottish grant many have accessed the carts because payment was done in three years.
What's the weather like in Malawi? We do experience hot weather with minimum temperatures of 18 degrees to 38 degrees. The cold month is June and July where temperatures averages 18 degrees Celsius. October is the hottest month with temperatures of over 30 degrees Celsius. The rainy season is from December to April.
Do rice crops sometimes die? Why? Yes, due to prolonged drought What do you do when the rice doesn't grow? It's tough to cope with life. People do grow maize those who are close to rivers or grow vegetables but it can't replace the revenue we get from rice.
How far do you live from your farm? From my home it is a 10 minutes' walk to the farm. On average a family has a 0.5 of a hectare
How did you meet JTS and fair trade? I met them because I am a member of KASFA.
How long do you work in one day? 8 hours mostly in the months of January to March it's a busy farming season and June and July when harvesting rice
How do you get in touch with companies to sell your rice? As a member of KASFA I sell my rice to KASFA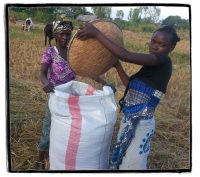 What season does the rice grow faster? January to March
What type of rice do you sell the most? White or brown? We grow paddy making it brown or white is by processors.
Do you enjoy farming? I enjoy farming
What do you do in your spare time? Roam around with friends who come to visit home and sometimes watch local football games, women do go to wells to draw water and wash clothes and cooking for the family members.
Inspired? Click on the links to either buy a bag of rice or take part in a 90kg challenge with us! And together we will change the world for farmers.
Sign up to our email newsletter to keep up to date with new products and our news!