Guest Blog – Turtle Bags
This Spring we have been working on making space in our online shop, ready for new and exciting products to offer to our customers. We are therefore delighted to host a guest blog from one of our new suppliers – Turtle Bags.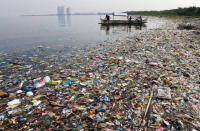 "Its an exciting year for Turtle Bags having traded since 2002 when the idea of plastics in our seas was largely invisible. Thanks to the endeavours of many over the last decade the reality of plastic pollution is now widely known and in 2015 we are promised a plastic bag tax.  A significant milestone but as the photo reveals we have some way to go to have the sort of oceans we can be proud of.  It is estimated that 14 billion lbs of waste is thrown into the oceans, so Turtle Bags will continue to campaign for cleaner seas.
Our cotton string bags have been about for over a decade and our manufacturer chosen for their strong fair-trade credentials. The string bags have stood the test of time as well (as well as pretty thorough testing by Which?), and we hope you enjoy the new spring colours.  They can be tucked into a tiny pocket and pulled out to hold as much as you can carry on your way home. Use it with pride!"
You can buy Turtle Bags string bags at our online shop.
Sign up to our email newsletter to keep up to date with new products and our news!