Go Bananas! Tuck into the school tuck shop!
Today's Go Bananas! guest blog is written by Mrs Price from Meltham CE School, and is all about their NEW Fairtrade tuck shop!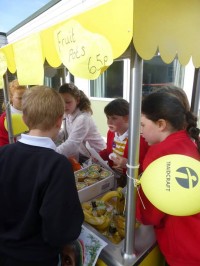 Children love it! It is like a weekly treat for them. Ellie Robb who has helped set the tuck shop up with Evie Snow says "I think the Fair Trade tuck shop is a brilliant idea because it helps farmers and workers in poor countries throughout the world."
Evie says "Me and Ellie are very happy with how the tuck shop has gone so far, and we are delighted it is so successful and still running. We have have now opened it up to the whole of keystage 2 every week"
Mr Mosley thinks the tuck shop is good, and made a suggestion that he would like to see fruit juice for sale. The week after we had it. He also wanted to see raisins for sale. We are currently looking for a supplier.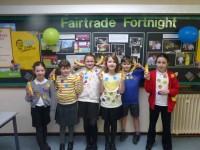 Mr Beaumont our headmaster  says "I'm delighted with the news that we've achieved the Silver Food For Life Award. The Tuck Shop has allowed the school to raise children's awareness of Fairtrade and healthy eating which has contributed towards the award."
And today? They were selling bananas! Do you run a tuck shop at your school? Share your photos too!
Sign up to our email newsletter to keep up to date with new products and our news!