From Fairtrade Bananas to Fairtrade Crisps
Today's Go Bananas! guest blog is written by Juan Andres Santelices from Fair Business Alliance; the producers of the world's first Fairtrade crisps……
Juan Andres Santelices has always been passionate about supporting small and medium farmers, from developing countries in Latin America to improve their livelihoods, their communities and their environment. He believes that if we can help to link these farmers products into international markets and support their businesses and organisations to become more ethical and sustainable and this will lead to long term benefits. It is because of this vision that he set up Fair Business Alliance (FBA) in 2011.
Fair Business Alliance's latest project, was working with plantain farmers from Ecuador to develop, design and produce the UK's first Fairtrade crisps.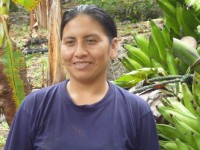 Farmers, from 750 families, who work with the organisation Fapecafes in conjunction with Fair Business Alliance, have been involved in every stage of the production right down to choosing the name and the design of the crisp packet. Unlike many Fairtrade products, the crisps are also packaged in the country of origin which generates more wealth and work for the local people.  In the interim, Fair Business Alliance has been busy conducting market research, holding tasting events, and talking to potential customers across Europe and successfully launched the product in 2013.
It is a testament to both partners hard work and commitment to quality that just one year later, Zamora Fairtrade crisps (available in 3 delicious flavours) have already been distributed across Scotland, Wales, England, Sweden and Malta! Not only that, but the lightly salted plantain crisps even won a Great Taste Award 2013!
You can help support the farmers in Ecuador and the work of Fair Business Alliance in the following ways:
Please buy Zamora crisps during this Fairtrade Fortnight and all year round. Ask  your  local whole or organic food store, fair trade shop, deli, bar or cafe to stock the products.
You could lobby your work place, university and school to add Zamora Fairtrade crisps to their usual canteen offerings. You could also lobby your Fairtrade town, city or country, to add Zamora Fairtrade crisps to their shops, community centres, and governmental /council facilities.
Follow Fair Business Alliance and the Zamora Plantain crisps on twitter and share your thoughts on facebook
You could even get involved as a volunteer (including pro-bono work) please contact us here: www.fairbusiness-alliance.com
And choose Fairtrade, especially Zamora crisps!
Sign up to our email newsletter to keep up to date with new products and our news!