Fairtrade Yorkshire and Beyond! Fairtrade Fortnight Blog
We asked "How do you Go Further for Fairtrade and Change The World?" This is Mark Dawson's, the Coordinator of Fairtrade Yorkshire, answer:
On 18th January this year Fairtrade Yorkshire succeeded in our bid to make Yorkshire the UK's first Fairtrade Region. It's been a great privilege to be involved with the campaign and great to learn about just how much activity is taking place across Yorkshire to promote the cause.
Local Fairtrade groups are so important in spreading the message that a fairer world trading system is possible. I began my journey in Fairtrade activism by joining my local group in York. Getting involved with a local group can be a lot of fun, but also it's an important way to connect your community with the wider world and reach out to those who produce the products that we all enjoy.
Check out the Fairtrade Yorkshire website to see where your nearest group is; there are more than 40 in Yorkshire, so one shouldn't be too far away. There are hundreds of Fairtrade churches and faith groups across the region and there are groups which promote Fairtrade in many schools, colleges, universities and workplaces. So it's easy to join with others and do your bit to make your community go further with Fairtrade.
The Fairtrade Foundation is one of many groups that are supporting the food justice campaign IF. The IF campaign – or to give it its full title – the enough food for everyone IF campaign – stresses that there is enough food in the world for everyone and no one need go hungry. To achieve this, some changes have to be made:
To end hunger, we need to tackle four big IFs:
IF we stop poor farmers being forced off their land and we grow crops to feed people not fuel cars.
IF governments and big companies are honest and open about some of the things that stop people getting enough food.
IF we give enough aid to stop children dying from hunger and help the poorest families get enough food.
IF we stop big companies dodging taxes in poor countries.
There has already been quite a lot of events to support IF. Here's a picture of me at my local launch.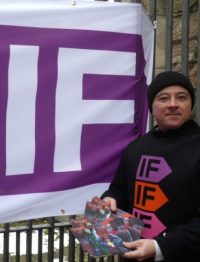 Do check out the IF website and sign up to the campaign.
There are literally thousands of events taking place across Yorkshire this Fairtrade Fortnight. No doubt there will be quite a few near you. Do have a look at your local group's website, or the Fairtrade Yorkshire site, or keep an eye on the local paper.
I'm sure there will be something to tempt you. I'm going to an event in York to meet with some Fair Trade olive growers and hear about what it's like to work in the olive groves of Palestine. I'm looking forward to tasting some of the olives too. The farmers are touring Yorkshire (details of where they're going are on the Fairtrade Yorkshire site). Have fun during Fairtrade Fortnight and think about how you can go further for Fairtrade.
Sign up to our email newsletter to keep up to date with new products and our news!