Fairtrade Rugby Balls are HERE!
To celebrate the Fairtrade Rugby Ball mini arriving in the fairandfunky online shop we invite Angus Coull from Bala Sport to tell you why it's all gone egg-shaped at Bala Sport!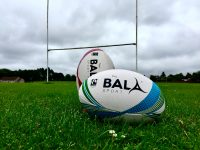 "After nearly 4 years of only making round balls, we're really excited to now have egg-shaped ones too. After extensive testing the Bala Sport Fairtrade rugby ball range is now ready to kick the game into Fairtrade shape.
Rugby isn't an elitist game, like football it's for everybody. It can be played in the traditional contact way with 15 players (that sometimes results in bloody noses and black eyes) and also touch with no tackling or scrums, (preferred by mums). And there's sevens – yes with just 7 players each side. Rugby Sevens was introduced into the summer Olympics in 2016, wouldn't it be great if it was to use Fairtrade Bala Sport balls in future (note to campaigners). Incidentally, Rugby sevens initiated in the 1880's in Scotland where Bala Sport is based and where the balls are designed and tested.
Although Bala Sport is starting off with a small range of rugby balls, there should be something for more-or-less everyone from toddlers to competitive clubs with a high quality mini ball, durable training balls in sizes 4 and 5, and a pro quality size 5 match ball. Check them out and watch our short vlog from the factory here.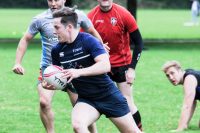 Scotland, Northern Ireland and England are all nations of rugby lovers, but Wales seems to have the reputation as the ultimate rugby loving part of the UK, so we decided to launch our brand new rugby ball range in Cardiff. The launch was organised by Fair Trade Wales and a Cardiff Welsh speaking team were the first to try out the Team ball in a training session. We're delighted to report that they liked them.
Gareth from Clwb Rygbi Cymry Caerdydd said: "We were approached by Fair Trade Wales to test out Bala Sport's new rugby balls and I have to say that they are top quality, when we are next sourcing supplies it's a product that we are going to consider."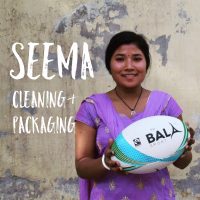 All Bala Sport Fairtrade rugby balls are hand stitched by skilled workers and all materials are sourced from within India. The balls are made from a mix of natural and synthetic rubber. We visited the newly Fairtrade certified factory in Jalandhar that our balls are made in and we were very impressed.
One of the star stitchers is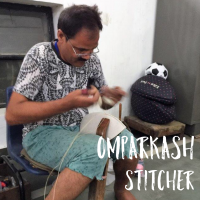 Omparkash who can produce more balls in a day than anyone else -without compromising quality. We were delighted to see a happy workforce, and a boss who runs the business based on good karma, believing that if you do a good turn for someone, then they will do a good turn for you – can't argue with that.
As the rugby ball factory is newly Fairtrade certified, and Bala Sport is its first customer it's too soon to report on what the workers will decide to invest the Premium generated by sales in the UK. I'll be delighted if fairandfunky let me come back another time though and blog about the impact. Whatever it is, it will be impressive and will be projects democratically agreed upon by the workers themselves, not a dictate from factory bosses.
Help us change lives buy a Bala Sport Fairtrade rugby ball for friends and family, and why not kit out a local club!"
Sign up to our email newsletter to keep up to date with new products and our news!