Fairtrade Fortnight Guest Blog from Kip McGrath Education Centres
Fairtrade Fortnight 2015 highlights the power of YOU, encouraging all of us to "Choose Products That Change Lives". At fairandfunky we are hosting our first fairandfunky Fairtrade Conference for Schools bringing together Primary Schools from across Kirklees to celebrate and learn about Fairtrade through creative arts and education workshops for students and teachers. 
We are delighted to host guest blogs throughout Fairtrade Fortnight from our 'Conference Champion' Sponsors. Today's blog is from Kip McGrath Education Centres:
"Kip McGrath Education Centres (KMEC) chose to sponsor fairandfunky because we wanted to support an organisation with which we share common values. We are small businesses striving to make a positive difference in our local community. We also share a belief that education is key in promoting equality of opportunity.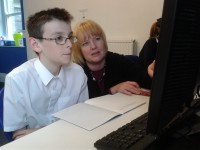 KMEC specialise in teaching maths and English using our unique educational programmes. As you all know, acquiring a good level of skill in maths and English is vital for a person's future. Once you have maths and English GCSEs so many more doors are open to you. This is where equality comes in. The more students that can pass these GCSEs, the greater opportunity they will have to stand on an equal footing with their peers.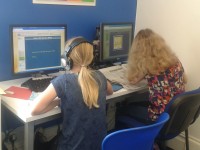 All teachers employed by KMEC are fully qualified and experienced in working in schools. In fact some of our employees still work in schools. We know how hard school teachers work because we've been there ourselves. We also know there are numerous outstanding schools in Kirklees. However, there is still a demand for private tuition. This is a world-wide phenomenon and is true even in those countries which are judged to be the top three in terms of educational achievement. Since the demand is there, our goal is to provide the best private tuition possible. Like fairandfunky we would like to be able to give back to the community. We like to have regular, professional communications with the school teachers of our students so that we are all working in the same direction. We are part of the professional education community and our centres have also offered free services to schools, such as assemblies and events.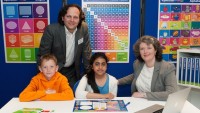 In the interests of quality and equality, we all comply with Ofsted standards and our inspection results can be viewed online. This means that not only do we meet the high standards required by Ofsted, we also enable parents to pay for lessons using child care vouchers.  Parents who receive working tax credits are able to claim up to 70% of the costs of a session back from the Government.   As a result our private tuition lessons are accessible to those who might not otherwise be able to afford it.
There are other examples of where we can provide equality. For instance some students who have difficulty attending mainstream schools have been successfully tutored at our centres. These may be those who have behavioural difficulties, or those who can't attend regular school on health grounds. We have also taught students who have spent some time abroad and therefore have gaps in their education, or language difficulties.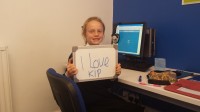 One of our great success stories has been helping students entitled to Pupil Premium. There is increasing pressure on teachers to ensure the gap between the educational achievement of underprivileged children and their peers is reduced. Our educational programmes are especially designed to help students who struggle, or who have gaps in their understanding.  Schools who have used KMEC for Pupil Premium have found that it was a very cost-effective way to accelerate pupils' progress.
There are many strands to a child's education and we feel that those providing it should work together to strengthen those strands. This is why we wholeheartedly support what fairandfunky do and look forward to continuing to work with them in the future.
To find out more visit: http://www.kipmcgrath.co.uk/Tutoring/ "
Sign up to our email newsletter to keep up to date with new products and our news!