Fairtrade Fortnight Conference at Halifax Minster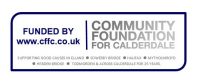 Halifax Minster opened its doors for the 2nd year running to 12 schools from across Kirklees and Calderdale on Friday 10th March, to celebrate Fairtrade Fortnight at the fairandfunky Fairtrade Conference.
Following welcomes and introductions the day began with a presentation from Holly Lynch MP who was delighted to welcome schools as part of her campaign to reach Fairtrade Town status for Halifax. And Holly was in turn thrilled to receive a Fairtrade football as a thank you for all her support for Fairtrade both in Halifax, and in Parliament as the Co-Chair for the Fairtrade APPG.
Fairtrade is a way in which each of us can take our own little steps to change the world, and the conference engaged everyone in four different workshops from Pockets Theatre, fairandfunky, Fair Grounds and with internationally renowned author Tom Palmer, to discover more.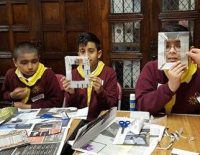 Fair Grounds took workshop participants to the Philippines and spoke about families who are members of a fair trade co-operative making recycled newspaper products. Students were able to have a go themselves, creating a recycled newspaper photo frame, gaining an understanding of the skilled work involved and the importance of fair trade and recycling.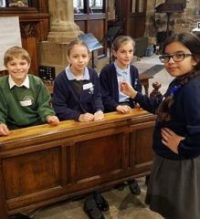 With Pockets Theatre delegates took on different roles within the supply chain of chocolate to create 'Fair' and 'Unfair' dramatic poses.
Students considered how these made them feel, and how Fairtrade empowers producers and consumers!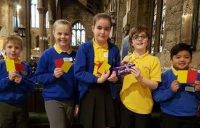 Tom Palmer read excerpts from his brilliant book 'Offside' sharing, from personal experience, what life is like in Ghana and how Fairtrade works to lift communities out of poverty. In a penalty shoot out students got the opportunity to win Fairtrade chocolate and a special Conference Trophy!
During the fairandfunky workshop students discovered what happens to the supply chain when chocolate companies go Fairtrade! Delegates learnt that as consumers, we have power to make a difference. All students made a wallet (recycled from a juice carton!) to focus their thinking when shopping. The workshop finished with tasting Divine Chocolate using all five of our senses; and much to their surprise almost every student discovered they do like dark chocolate!
After lunch students gathered together to have a wonderful group photo celebrating Fairtrade! And were treated to a presentation from Conference Champion Sponsors Suma Wholefoods, who shared how important Fairtrade is to their business and to their customers.
The Conference closed with certificate presentations to every school from Nigel Kaye a co-op member at Suma Wholefoods, and each student received a goody bag including a copy of Tom Palmer's book: Off Side.
A huge THANK YOU to all teachers and students for joining the Conference and for taking their own little steps to change the world. A special thank you to the Community Foundation For Calderdale* for their support in part funding the event. And a massive thank you to the following businesses who all supported the Conference and helped make it happen:
Suma Wholefoods – Conference Champion
Social Progress – Conference Champion
CICS – Conference Partner
Traidcraft – Conference Partner
Ramsdens – Conference Partner
Together, we will change the world.
* The Community Foundation for Calderdale believe in thinking differently, and their grant aid is helping to eradicate inequality and provide fairer life chances to everyone in Calderdale, irrespective of race, gender, financial position or disability. They do this by annually conducting in-depth research across ten core themes; identifying areas of concern and prioritising them for funding. They work with individual donors and business supporters to fund meaningful, sustainable and vital change across Calderdale.
They award over £500,000 worth of grants each year locally. Grants range from £500 – £10,000 each. They support charitable organisations that can make a real and lasting difference in challenge inequality across all 17 Wards in Calderdale.
Sign up to our email newsletter to keep up to date with new products and our news!