Fairtrade for Sustainability – A Bristol Review
We were thrilled to be commissioned by Fairtrade Bristol to re-create the logo for the International Fair Trade Towns Conference to reflect the conference theme of 'Fairtrade for Sustainability'. The original logo by Green Hat Design combined the Fairtrade colours in speech bubbles, connected by Fairtrade products, and our logo developed this idea a little further.
Thus our review of the Conference looks at each speech bubble……(from left to right!)….not forgetting the real Fairtrade coffee from Dark Woods and the real Fairtrade rice from JTS – Fair Food Fine Food.
1 – The Fairtrade products and producers (made using Fairtrade packaging from Traidcraft, Café Direct and Divine Chocolate)
Perhaps THE biggest threat to the lives of small holder producers across the world is climate change. We heard directly from Fatima Ismael, an Agricultural Engineer from Nicaragua, how climate change is a real problem: An increase in global temperatures of just 3˚C will destroy coffee crops and livelihoods for producers. Climate change is a dominant factor of the lives of producers who are seeing a global drop in harvests, bees not producing honey, coffee losing leaves and hailstorms destroying tea crops.
'Fairtrade for Sustainability' is so important for small holder producers. Fairtrade International is developing ambitious programs to help farmers adapt: working with young people to learn new planting techniques, creating a new Carbon Credit scheme seeing investments into producer communities from multi-nationals, working alongside farmers to protect indigenous species, maintain biodiversity and improve yields.
Fairtrade producers need YOU the consumer and the campaigner to commit to Fairtrade.
2 – The Fairtrade Consumers (made using Fairtrade catalogues and images of children, drawn by children, of themselves with their favourite Fairtrade product!)
We heard from Marks and Spencers that they alone have over 21 million customers. Imagine the power of that consumer spend if they all asked for a Fairtrade tea, coffee, or  t'shirt and bought Fairtrade.
Harriet Lamb described Fairtrade as the global version of 'Shop Local' and we couldn't agree more! In fact, this is part of our commitment to our local campaign group Holme Valley Fairtrade. Both Fairtrade, and 'shop local' campaigns put people back into trade, allowing consumers to deal directly with producers: Putting those who grow the food closer to those who eat it; putting those who make the products closer to the people who use them every day.
As consumers we can be a global movement for change. Buying Fairtrade, shopping local, connects us directly to producers; and ensures profits are ploughed back into communities, improving livelihoods and making trade fair.
Fairtrade producers need YOU the consumer and the campaigner to commit to Fairtrade.
3- The Fairtrade Campaigners (made using images of Fairtrade campaigners from around the world photographed with their favourite Fairtrade product!)
"I shouldn't have to be here," challenged Greg Valerio, who as a pioneer for Fairtrade Gold has been campaigning for over half his life. But Fairtrade campaigners are still here and we need to keep innovating, keep listening, and keep the pressure on companies and governments.
In September, world leaders will get together in New York to sign the new Sustainable Development Goals (SDGs) replacing the Millennium Goals. It is imperative that these new global goals focussing on people AND the environment recognise the importance of 'Fairtrade for Sustainability'. Market growth must be inclusive and not continue to leave people behind. Economic growth is about all people and their lives. Fairtrade plays a key role.
Linda McAvan MEP reminded the conference that The SDGs will apply to all nations, not just developing countries. Growing inequality is a global problem and it is a joint responsibility to tackle global problems together. Governments need to take responsibility for global inequality seriously and we, as campaigners, need to challenge them to do so.
Fairtrade producers need YOU the consumer and the campaigner to commit to Fairtrade.
4 – Together we change the world
There are huge challenges facing Fairtrade producers, and the voices of ordinary people need to be heard. Together we need to commit to redouble our efforts to get big changes in global governance; and together we need to bring the producer voice to the fore to change the world.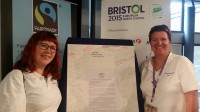 At the close of the conference we, alongside all other delegates from 20 countries, signed a resolution demonstrating our commitment to Fairtrade. We were challenged to take this to our local leaders and policy makers. We already have a meeting with our MP in the diary! Watch this space…..
The mission statement at fairandfunky is "Empowering people to take their own little steps to change the world" and this continues to be the driving force behind our involvement in the Fairtrade movement. We left Bristol inspired, motivated and challenged to continue to make change. We hope you will join us.
For more information on Fairtrade and the Sustainable Development Goals visit:  http://www.fairtrade.org.uk/en/get-involved/current-campaigns/show-your-hand
Sign up to our email newsletter to keep up to date with new products and our news!